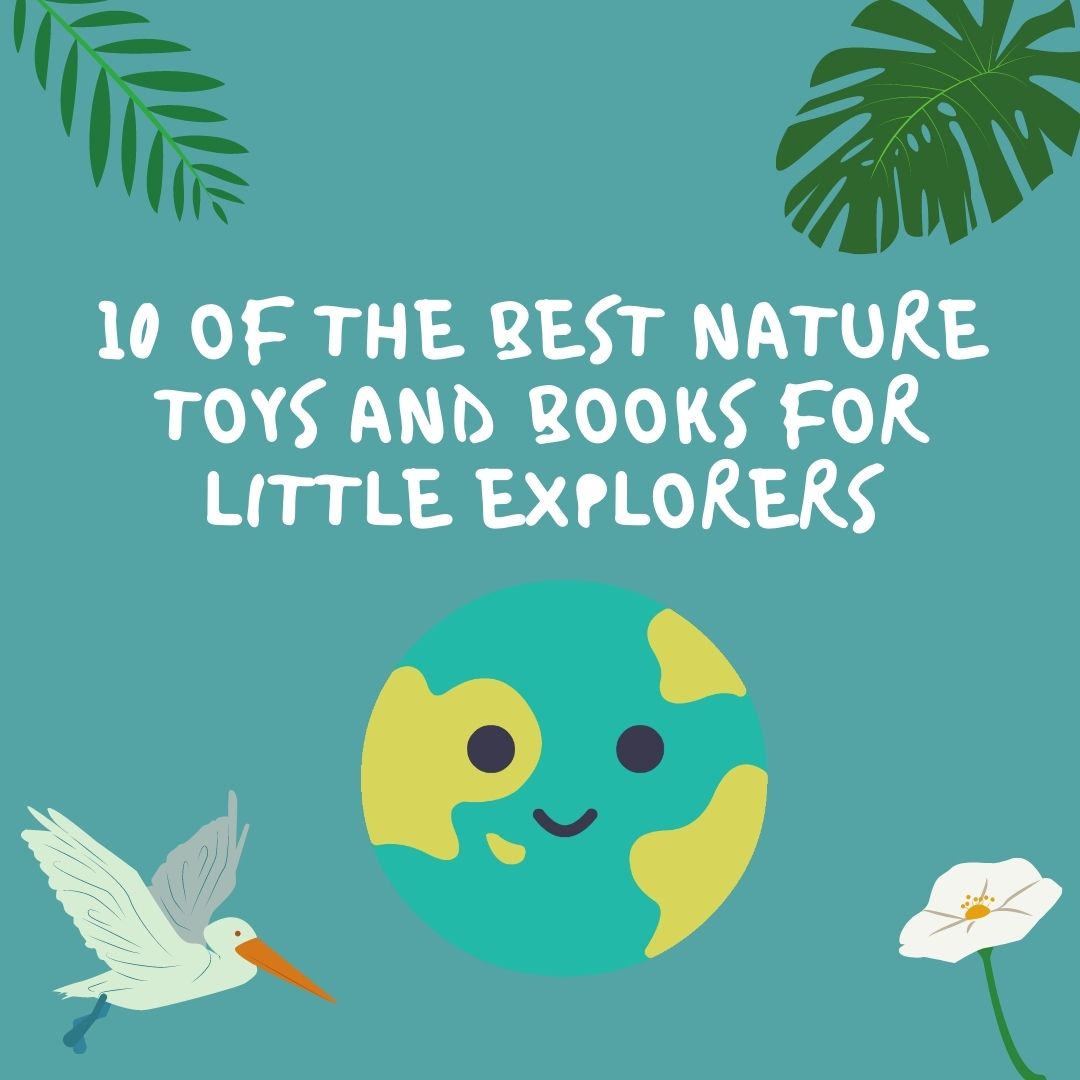 10 of the best nature toys and books for little explorers
Nature play is a natural and important way for children to engage with the environment that surrounds them. This is why it's so important to provide kids with toys and kits that will encourage them to explore nature as well as other outdoor activities. From bug hunting kits to nature books, these are a brilliant way to get your kids playing and learning outdoors.
Research suggests that children who are exposed to nature early on are healthier and happier than those who aren't, which is one of the many benefits of letting kids explore their surroundings.
Another study found that "kids between ages 3 and 5 who were given a kit with three toys - a magnifying glass, an insect life-cycle book, and a curious cat feather toy - for 90 minutes per day showed an increase in reading skills."
When choosing the best nature toys for kids, here are some things you should keep in mind. Kids are fascinated by the natural world and do not need much more than a magnifying glass and some twigs to get started. Nature toys and kits for kids can be a great way to introduce your children to natural elements in an educational way. A good nature toy is not just about giving them something to play with, but also about instilling in them a curiosity for the world around them. Here's our pick of the best nature toys for outdoorsy kids. 
1. Mini Bug Viewer
These small bug viewers are the perfect mini-beast hunting companion for children to learn about, and explore the natural environment around them. Each small pot comes complete with a neck lanyard (plastic safety clip included) for easy wear. These small pots have magnified lids for close-up viewing of small insects. Perfect for use on forest school classes and nature investigations.
2. Outdoor Activity Set - Back to Nature

This Outdoor Activity Set is a fun outdoor toy designed to get children off the sofa and into the great outdoors exploring nature.This fabulous kids activity set comes packed with a magnifying glass, coloured chalks, a pencil and a fun activity book full of exciting activities and hands-on projects.
3. Where's Attenborough Book 
On each page in this book, drawn by artist Maxim Usik, Attenborough is lying in wait. You'll have to find him as he dives into the ocean, wades through wetlands and hides in the long grasses of the savannah – all the time keeping a watchful eye out for some of our world's most incredible – and endangered – wildlife.
There's no better way to celebrate an international icon (and perhaps stop and think about conservation along the way).
4. Studio Roof Japanese Beetle Wall Decoration
Children and adults will love building this model to adorn a feature wall, making a stunning decoration for a playroom or nursery. Since nature plays such an important role in our story and daily lives, the products are made from recycled cardboard and coloured with plant-based vegetable inks. This is our way of contributing to the environment.
5. Meadow Green Activity Bucket

Plastic buckets that break are now a thing of the past! The Bigjigs Toys Meadow Green silicone bucket can be rolled, flexed, and bounced back into shape without crease marks! This fun activity bucket can be packed in suitcases, backpacks, shopping bags and taken anywhere at any time.
Whether you're going on a trip to the beach or are jetting off aboard, this silicone bucket is a holiday essential. Malleable eco-friendly silicone, Can be bent, rolled and squashed without losing shape. Suitable for 18 months+
6. londji Red Biodiversity Kaleidoscope
Children will love these stunning vintage style Kaleidoscopes by Londji. Hold the kaleidoscope to the eye and discover a world of colour and patterns created by the objects around you. A classic optical illusion toy that will fascinate the curious. 
7. eeBoo Natural Science Memory & Matching Game
Twenty-four different science illustrations depict mammals, weather events, fossils and minerals, birds & bugs on the sturdy and thick tiles. As the tiles are paired up, refer to the colorful insert to learn about these categories. A great skill building game that can be played alone or with others.
8. Slow Down… Discover Nature on Your Doorstep
A wonderful book for inspiring a love of the natural world. 
9. Candylab Rosebud Camper
Get our new Rosebud camper hitch and take down Route-66. You'll be sure to have heads turn. Our Rosebud Camper is ready to hitch up to our new Mules and take on the wilderness by storm. Solid Beech Wood, water-based paint and clear urethane coat. ABS plastic rims, with plastic tires. Safety tested according to US CPSIA and European, Australian and New Zealand regulations. 
10. Kids' Garden Activity Cards
Dig in, explore the garden and have fun indoors and out! Fifty easy-to-follow activity cards in 5 engaging categories invite children to learn not just the basics of gardening, but also new ways of looking at nature. Updated and expanded edition.