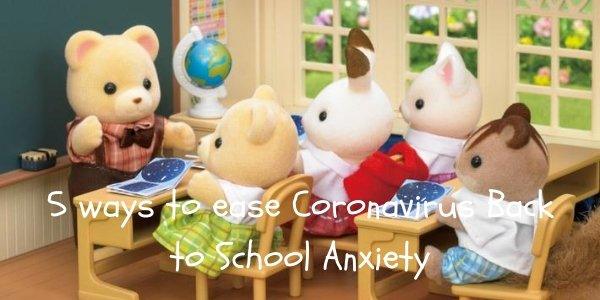 5 Ways to Manage Kid's Coronavirus Back-to-School Anxiety
With the return to school imminent (at least for now) many parents are worried about how to prepare their child emotionally for returning to school following the coronavirus lockdown. We've gathered some top tips and books that can help guide your children so they can be unafraid of the dark side when anxiety sets in...
#1 T

alk to your child about their returning to school worries

If your child is experiencing anxiety, there are things that parents and carers can do to help. First and foremost, it's important to talk to your child about their anxiety or worries. Reassure them and show them you understand how they feel. All families are going through this challenging period and it is normal to feel anxious or stressed.

The Priory Group have produced a lovely set of illustrations to help a child to recognise what is happening to them and understand why they may be feeling anxious about going back to school.

 
#2 Practice Mindfulness
There are endless ways to practice mindfulness with kids and every child (mental health concerns or not) will benefit greatly from mindfulness activities. One easy and fantastic way to practise mindfulness with children is the use of guided meditations.
Practice simple relaxation techniques with your child, such as taking 3 deep, slow breaths, breathing in for a count of 3 and out for 3. You'll find more guidance for helping children with anxiety on the Young Minds website
#3 Get out into Nature
Nature provides countless opportunities for discovery, creativity, problem-solving, Nature creates a unique sense of wonder for kids that no other environment can provide. The phenomena that occur naturally in backyards and parks everyday make kids ask questions about the earth and the life that it supports. It reduces stress and fatigue. 
Charities that support the natural world have got some suggestions for how getting outside can help our mental health right now. The Wildlife Trust says that if people are feeling a bit unhappy, they should try and get into nature. Seeing birds near our homes, walking through green spaces filled with wildflowers, and along rivers that are clean and clear reduces stress, fatigue, anxiety and depression. Children's wellbeing increases after they spend time connecting with nature according to their latest report...
#4  Read A Book To Help Calm Anxiety At Night
Reading children's books that have characters who are afraid of the dark can help kids to know they're not the only ones who get scared. Try reading one of these to help your child realise they're not the only one who gets scared at night. 
One thing kids love to do is listen to audiobooks in bed. There are so many great kids' titles out there. The beauty of apps like of 
Audible
 is that they usually have a sleep timer. They can distract themselves from their anxiety by listening to a story while they relax in their bed. 
Whether your child will be returning to school in person or virtually, it is important to ease them back into a structured daily routine and sleep schedule.
#5 Follow the advice of experts. 
Professor Prathiba Chitsabesan, NHS England Associate National Clinical Director for Children and Young People's Mental Health, said recently: "Children and young people may be experiencing a variety of feelings in response to the coronavirus pandemic, including anxiety, distress and low mood, and it is important to understand that these are normal responses to an abnormal situation."
If a parent is worried about their child's mental health, they can help by:
Making time to talk to your child
Allow your child to talk about their feelings
Try to understand their problems and provide reassurance that you have heard them and are there to help
Help your child do positive activities
Try to keep a routine over the next few weeks
Look after your own mental health.
Finally, know what to do to avoid the spread of germs. This not only helps keep you safer, it gives you and your kids a sense of control! Follow the expert guidelines for health and safety. Wash your hands well and often. Keep surfaces clean. Stay at home when you can. If you need to go out, wear a mask and keep a safe distance from others. When you do these things, you protect yourself, your family, and your community.
Visit our children's mental health and wellbeing section for more books.
Useful links