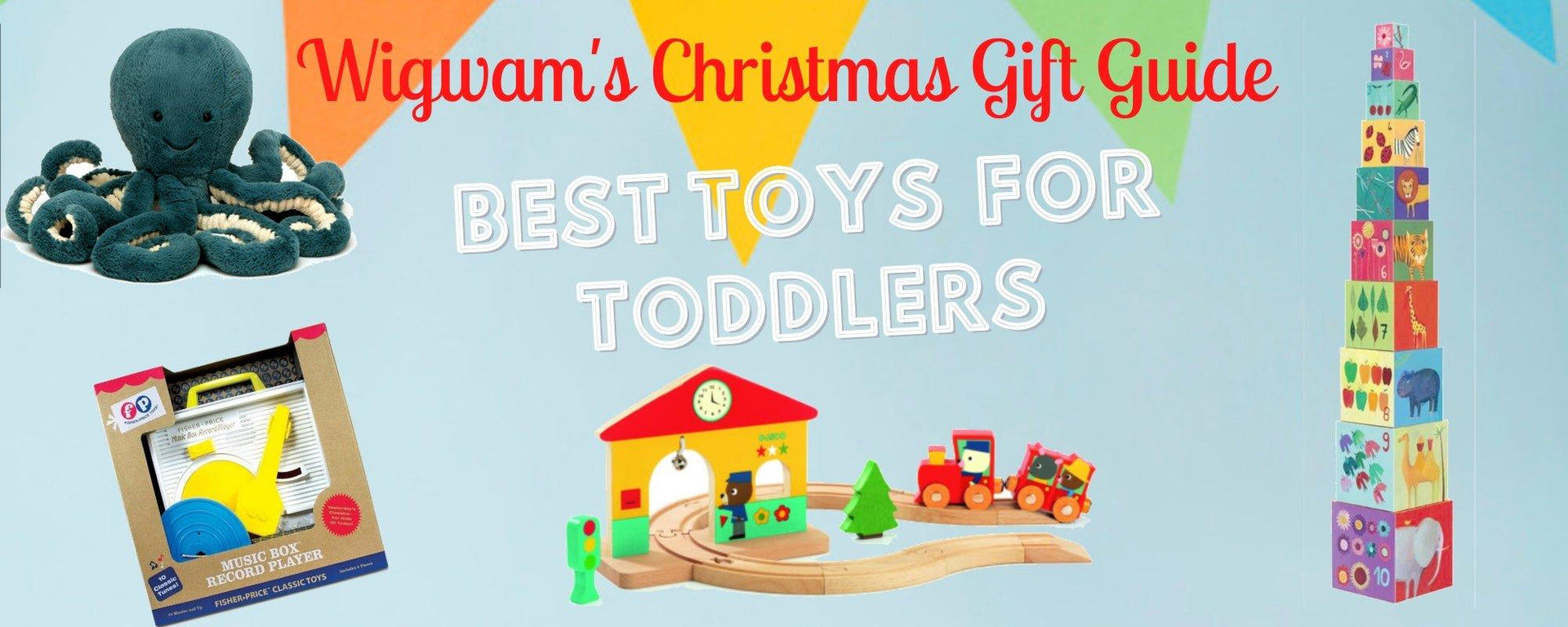 10 best gifts for toddlers from the cuddliest soft toys, wooden toys to bath time fun!
Searching for Christmas present ideas for a toddler who has everything? We've got ideas no one else may have thought of. Is this your first 
Christmas
 with a 
toddler
 in your midst? We've got more unique kids' Christmas gifts and ideas than the elves' workshop to keep them occupied. Treat them to the cuddliest plush soft toys the tiniest family members can snuggle up to and traditional wooden toys to encourage learning and play, too. For babies and toddlers gifts pick from our collection – all straight from Santas workshop, of course. 

#1 Jellycat Storm Octopus Soft Toy
Storm Octopus is a bubbly sort, and you would be too, with eight amazing tenticles! Squishy and cheery in terrific teal, this softly is scrummy to curl up with. Shake hands and feel the scruffled cream fur beneath, then let go and pyoinggg - there's a spring in the step!
#2 Fisher-Price Classic Retro Music Box Record Player
We love this classic record player. First introduced in 1971, the Fisher-Price Music Box Record Player has brought music to children's ears for generations. Place one of the five double sided records on the turntable, wind it up and place the "needle" on the record to hear the classic "Music Box" rendition of ten timeless tracks. The Fisher-Price Change-A-Record Music Box, commonly known as the Fisher-Price Record Player, is a favourite among those who played with it as a child. 
#3 Djeco Mini Wooden Train Set
Choo choo! A great introduction to trains for toddlers. This mini wooden train set features a little bell to ring and two train carriages that magnetise together. Offers a great opportunity to develop fine motor skills and explore the world around them. Designed by Edouard Manceau.

#4 Moluk Mox Sensory Balls
Stretch your imagination with the Moluk Mox sensory balls. Mox is a multi purpose sensory, stacking ball with a big smile! Made from silicone making it soft, durable and easy to clean. Suitable for ages 0+.
#5 Touch Words: My Day by Rilla Alexander
"Visual and tactile elegance that will appeal to eyes and hands." - The New York Times
The Touch Words board book series brings essential concepts to life for babies and toddlers Sturdy and interactive, these board books combine touch, sight, and sound to help children experience and learn about the world. By allowing the child to trace the raised letters of a simple word and then trace its corresponding object, these books foster critical early reading and language skills, all while delighting readers with bright and eye-catching illustrations.
With Touch Words: My Day, build vocabulary and explore the exciting possibilities of a day - from washing to playing to sleeping and everything in between. Perfect for gifting at baby showers:
#6 Djeco Articulo Animal Puzzle
Create adorable animal friends with the lovely Articulo Animal Puzzle from Djeco. There are six different animal characters in two parts, each with a moving component. Great for early development in toddlers.
#7 Djeco Vehicles 10 Stacking Cubes
These lovely bold and colourful Vehicle Stacking Cubes from Djeco are perfect for little ones to stack and tumble over and over again.
#8 Moluk Pluï Rain Cloud
The Moluk Pluï is an innovative little bath and water play toy. The Rain Cloud beautifully illustrates the cycle of water and magically turns kids into little rainmakers. The smart bath toy works like a pipette and makes simple physics tangible and fun. 
#9 Plan Toys Submarine
Dive deep and explore the depths of an underwater world! Submerge them in the water and squirt them out.  Stimulate imaginative play. Plan Toys are the original eco toy maker leading the way in sustainable manufacturing and quality wooden toys to stimulate young children. Plan Toys use rubber wood from trees that no longer produce latex and would otherwise be burnt.  They also create some toys from 'eco Plan Wood' which is made from another waste product, the roots of the rubber trees to create a wonderful selection of eco friendly wooden toys.
#10 Philos Mini Waterball Ducklings
An intriguing mini play ball suitable for cot, floor or bath time fun. The toy stays upright as the ball bobs or rolls around. The ball has a 7cm diameter and floats on water. 
Browse our
soft toys
,
wooden toys
and
bath toys
collection for more ideas!