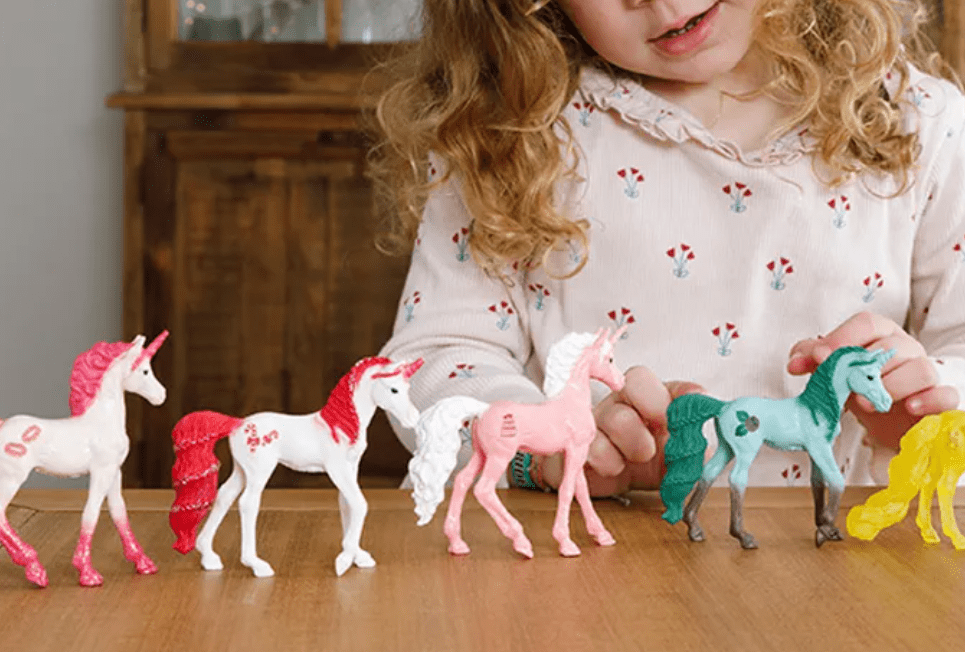 7 Must Have Unicorn Toys For Christmas 2022
Do you believe in Unicorns? We do! We're very happy to share our Top 10 unicorn present ideas for Christmas 2022. 
A unicorn is a magical creature with mystical powers. Today unicorns are incredibly popular with children and are often used as an emblem of diversity, uniqueness, and inclusivity. 
April 9th is National Unicorn Day in the UK! It's a great chance to decorate and dress up in rainbows and glitter! (Who needs a excuse :-) )
In case you haven't heard it's all about the rainbows and unicorns right now. Big unicorns, small unicorns,
rainbow unicorn toys, 
cute unicorns, lamacorns, unicorn books, balancing unicorns, you name it. 
Let your little ones imagination run wild with our selection of 
not the usual high street Unicorn Toys. 
Here's our pick of the best unicorn toys in stock now...
What it is: This golden glowing golden figure loves gummy bears and glitter.
Why we love it: Schleich always manages to design wonderful and detailed animals, which absolutely have to be added to our collection ;-) This little horse is very detailed again and gorgeous. They are also very robust.
What : This 18cm flying unicorn has a large wingspan - it looks impossible, but it's simple to balance almost anywhere, appearing to defy gravity.
Why :  Balance this gorgeous pocket-money Unicorn on the tip of your finger, friends will think it is a mind-boggling magic trick! The Amazing Balancing Unicorn appears to defy gravity but is actually very easy to balance on your finger, pen, bookshelf, phone or laptop – in fact almost anywhere. 
What it is: Mint chocolate (think after eights) unicorn figure
Why we love it:  The colorful mint green coat. They usually use their horns to groom each other or to burst balloons filled with glitter. Then they dance in the glittery rain.
What it is: Cutetitos Unicornitos are adorable, super-soft stuffed unicorns wrapped and hidden in a rainbow burrito blanket ready to be unrolled and discover your Cutetito's personality.
Why we love it: Each toy is a surprise. The most magical Cutetitos yet are the Unicornitos. Collect 8 in beautiful hearts and stars prints and new rainbow burrito wraps!
What it is: This boxed card deck is the perfect way to enjoy spending time with the whole family, and also features a leaflet containing fun trivia about the mystical creatures featured. Discover 8 different mythological horses, from water horses to flying horses, whilst playing four classic family games: Snap, Happy Families, Swap and Pairs!
Why we love it: An absolutely beautiful book full of incredible images of unicorns.
What it is: A really lovely book. You'll learn where to look for unicorns and how to care for them as you collect ten badges on your journey toward becoming an official Secret Unicorn Club member. 
Why we love it: As a Secret Unicorn Club member, you'll discover magical unicorn facts and earn badges to unlock a secret bonus book hidden within the back cover.
What it is:
 Clockwork Soldier specialises in paper activities and craft kits that provide fun and challenging projects. Turn your bedroom into a land of fantasy with this magical unicorn head With flowing hair and a dreamy design.
Why we love it: A welcome distraction from digital toys. Products are inspired by nostalgia with a fresh and creative take on gifts, games and curiosities.
Visit our Unicorn Toys collection for more inspiration.