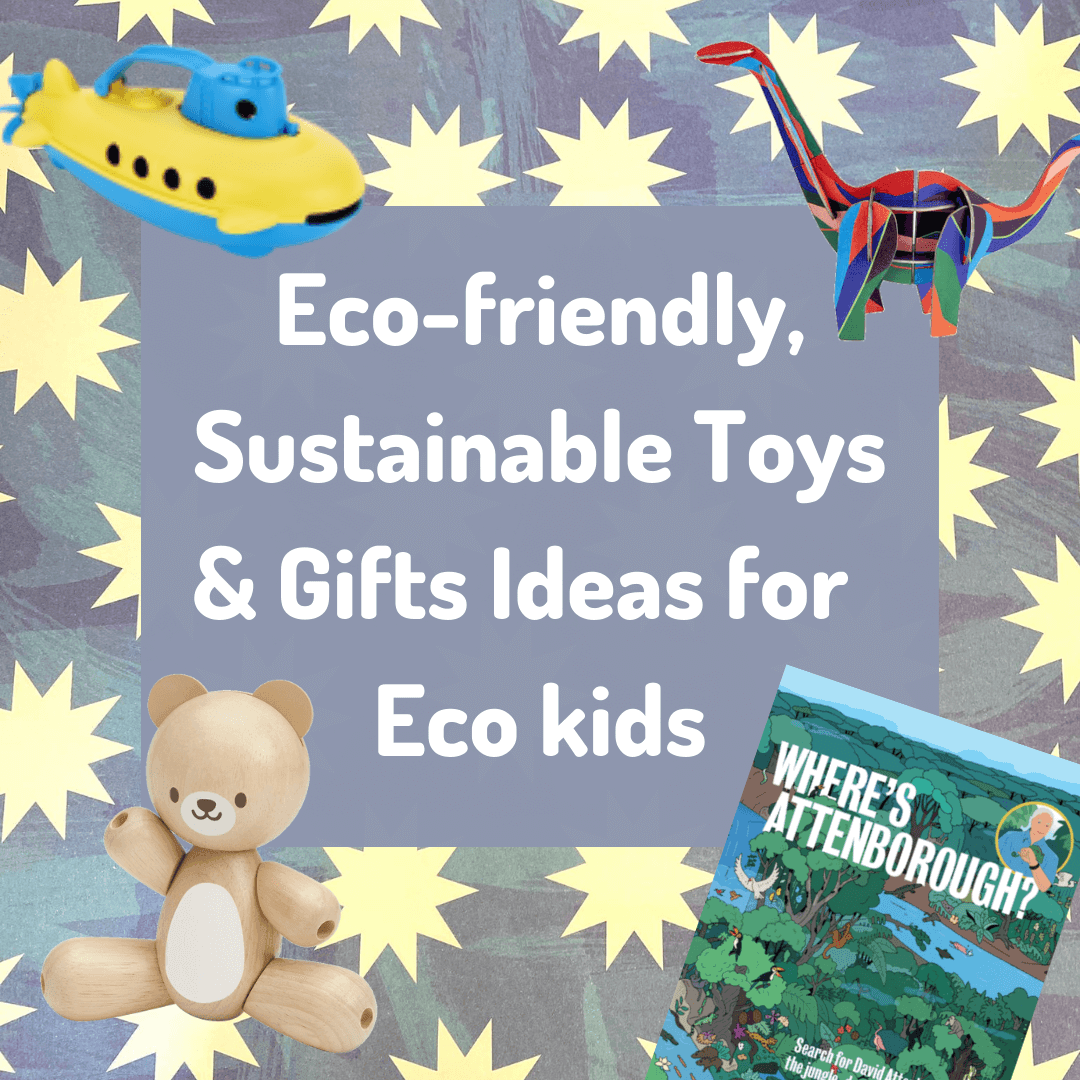 Eco-friendly, sustainable toys & gifts ideas for eco aware kids
Looking for Eco-friendly, sustainable toys & gifts ideas?  Instead of something plastic and disposable why not look for a more environmentally concious gift. More than ever, families are seeking eco-friendly designed toys and with good reason. 
Why buy eco-friendly, wooden & sustainable toys?
As a parent you're probably aware of all the dangers to your children's health from toys and products, but are you aware of the threat to the environment? Plastic toys, for example, are non-biodegradable and have been proven to cause an increase in air pollutants that harm the health  of children and animals. The good news is, there are plenty of products that are designed for kids, yet still demonstrate a commitment to the environment. To help you find the best toys for kids that are 'green', eco-friendly, and promote more sustainable lifestyles, we've compiled this list of the Eco-Friendly Toys For Your Kids that are also budget conscious. Green Toys Mini Cars are sure to stop traffic wherever little imaginations venture! These planet-pleasing automobiles are made in the USA from 100% recycled plastic milk jugs, these lightweight cars are specially sized for little hands, making them the perfect go-to toy! 

What are the benefits of Eco-friendly toys?
Eco-friendly toys are made from sustainable material that are often reused, reused or recycled. Think toys made from recycled plastic, wooden toys and educational games. These toys are handmade, biodegradable and wonderful learning tools. Wooden toys are more durable (yielding less waste than their plastic counterparts), biodegradable and may even be made with sustainable wood. Good quality, eco-friendly wooden toys also don't contain PVC, phthalates, or similar chemicals used in plastic toys that end up in landfill taking hundreds of years to break down. Wooden toys will last for years. 
What are some popular Eco-friendly Toys?
Toys that promote awareness of environmental issues among the next generation could also be classed as eco-friendly.  We have selected a beautiful range of eco-friendly toys made from wood, card, wool, and cotton, which are organic, recycled or recyclable in our eco toys collection. The Green Toys Sport Boats are very popular. Made in the USA from 100% recycled plastic milk jugs, these lightweight cruisers are specially sized for little hands, making them the perfect go-to toy for the tub, pool, or beach bag. 
How to choose an Eco-friendly Toy (considerations)
Many toys are produced unsustainably by using excess packaging or environmentally damaging materials. A few parents check the labels on toys ​​so consider purchasing toys made from renewable and sustainable materials such as Green PE, sustainable certified wood, or organic fibers. Alternatively reuse bottles to create a bottle farm. 
Check for toxic materials like PVC, phthalates, and BPA 
Environmental parents, be warned that not all eco-friendly toys are created equal. In fact, some may be made from lead, toxic wood or toxic chemicals. How can you tell if a toy has BPA in it? Look for the numbers 1, 2, or 4 on plastic toys. Any of these numbers mean the toy is made from polyethylene, a safe BPA- and phthalate-free plastic, making it a healthy toy to take home.Toxic softeners in plastic often have that "beach ball" smell. Lean toward products that are fair-made from natural materials: organic cotton-stuffed animals and wooden blocks, for example. If possible, avoid all plastic toys for infants and newborns. The UN Environment Programme (UNEP) has published a report that finds 25% of children's toys contain harmful chemicals. Chemical additives are used in plastic toys and other plastic products to provide specific levels of hardness or elasticity. Many of these chemicals can harm children's health, according to the study.
Eco-Friendly Toys For Babies and Toddlers 
Plan Toys Wooden Toys, pictured below are a great choice for kids ages 3 years and up, and even though they are a bit pricey, worth every penny for durability and fun factor especially the doctor and vets set. We also love the Rubbabu Shape Sorter Bus. Rubbabu produces hand made toys from natural biodegradable foam rubber. They are soft, tactile and durable, offering years of endless imaginative play value and learning opportunities. Combine bath time with play time with Kitpas bath crayons which can be used to draw on wet surfaces and wiped clean when done. They are non-toxic and perfectly safe for children.
Eco-Friendly Toys For Older Children 
For older kids whether they want to help shape the world or simply learn a bit more about reducing your environmental footprint, our collection of books on sustainability will help get you started! Trees a ladybird book takes a closer look at some of these ancient plants, from the common oak to the dragon blood tree. In this book, you will discover how trees work, explore the affect of seasons on certain trees and examine a variety of amazing and unique trees from around the world. 
We also love the Where's Attenborough book. We only need to hear a word or two uttered, before we recognise David Attenborough's iconic voice. But, in this brightly illustrated book, we'll have to find him by sight. On each page in this book, drawn by artist Maxim Usik, Attenborough is lying in wait. You'll have to find him as he dives into the ocean, wades through wetlands and hides in the long grasses of the savannah – all the time keeping a watchful eye out for some of our world's most incredible – and endangered – wildlife.
The Best Wooden and Sustainable Toy Brands
Stuck for kids' birthday gift ideas? There are many great brands making fantastic educational toys (that the kids will love). Here's a few of our favourite made-to-last brands..
Bottlefarm - The Bottle Farm kit turns any plastic bottle into an indoor farm using hydroponic technology. Use it to grow herbs like basil and mint, leafy greens like lettuce and rocket, and even tomatoes and chillies. Grow delicious food at home without a garden. Set up the kit with any plastic bottle, add tap water and watch your plants grow from root to leaf. 
Green Toys has kid's imagination, safety and the planet earth at heart. They divert a huge amount of waste from landfill to cleverly create toys that range from dump trucks to doctor's kits. Made from post-consumer plastic – AKA recycled milk bottles. 
Plan Toys has a great range of sustainable wooden toys. Their toys are free from toxic glue and their paints are made from sustainably sourced rubber trees. As well as the instruments we love the pull-along toys, puzzles, blocks, bath toys and role play pieces. 
Studio Roof products are made from recycled cardboard and printed with vegetable inks. They all last a very long time but, if a time ever comes that you no longer want them, they can also be recycled. Every design made represents a new tree planted every year through the Trees for All foundation.Trees for All plants trees in the Netherlands and offsets carbon emissions.
Wigwam Toys verdict: The Best Eco-friendly toys & gifts
Plan toys my first camera would be a lovely gift for a toddler, and the Where's Attenborough book will likely be devoured by older children who love Where's Wally and are already eco-aware. However, for the excitement  its arrival generated, as well as its eco educational value and time-filling qualities, our best buy is the Bottle Farm Kit as all the family can create and enjoy together.
Shop all our eco friendly toys collection to find the perfect gift for your next kids birthday party.
Whether that's choosing to wrap your gifts in 
recyclable paper
, shopping from small businesses, or thinking mindfully about what you're gifting this year, only good can come from your promise to limit waste and shop sustainably.