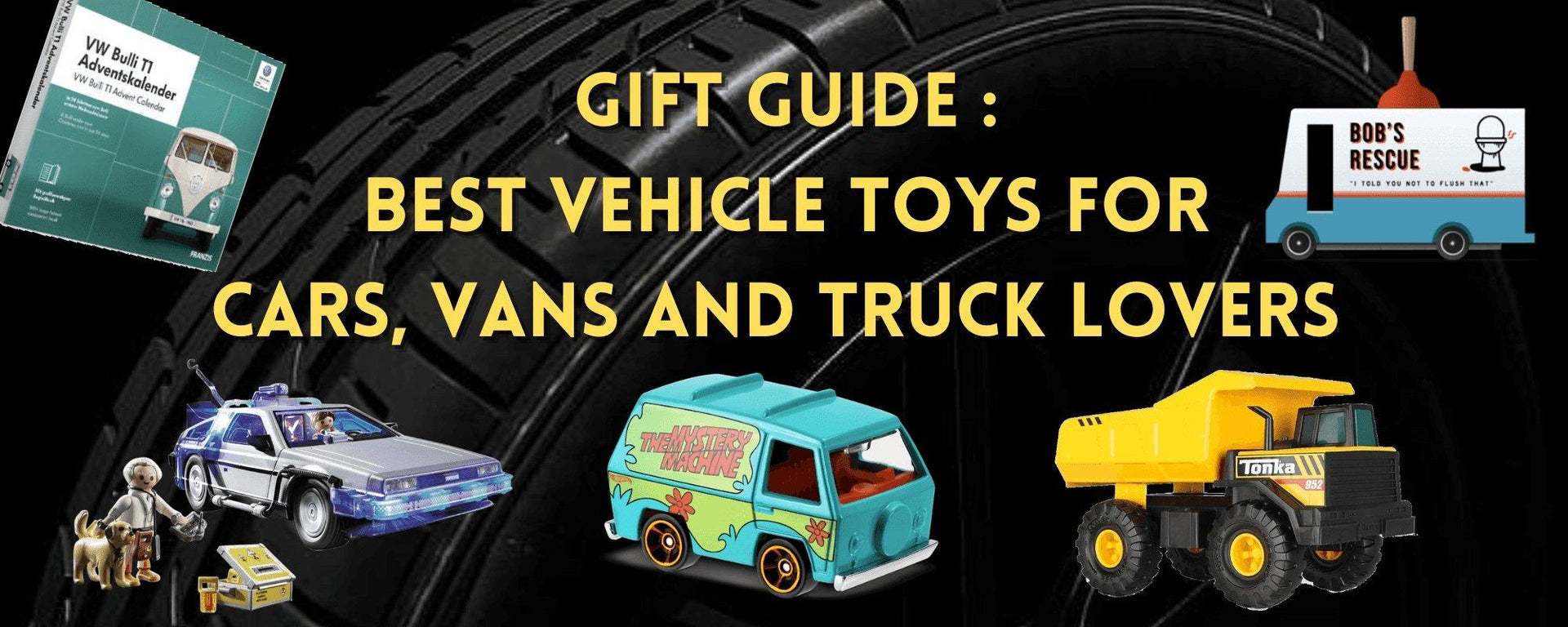 Gift Guide : Best vehicle toys for kids and dads who love cars, vans and trucks
Looking for the best vehicle toys for kids and big kids who love cars, vans and trucks? We have some great ideas for Christmas gifts for the petrol heads in your life whether they are kids, dads or grandparents who are hard to buy for. Who wouldn't want a VW campervan in their christmas stocking?
From buildable campervans to classic retro favourites like Tonka, here's our pick of the top toy vehicles for boys and girls of all ages.
For over 70 years, Tonka has been the world's favorite toy truck! Today, Tonka is still rolling into the imaginations of kids all over the world. From one generation to the next, Tonka is a rite of passage that carries meaning and creates memories. Tonka inspires kids to create stories, play, get moving and stay active, while igniting imaginations to run away from laptop screens and into new adventures! 
TONKA offers all the rescue, construction and service vehicles in micro sized metal version. The perfect stocking fillers each pack includes 4 die cast vehicles and Tonka tough dirt, a no-mess sand compound that mimics real construction site conditions. Each free-wheeling vehicle is crafted with attention to detail and is built micro-sized, but TONKA tough! Hours of lockdown fun!
Go back to the 80's. Playmobil goes back to the future with this Back to the Future DeLorean set! The iconic DeLorean features folding wheels for hover mode, doors which open upwards, an illuminated flux capacitor inside and illuminated exterior. Also included is plutonium, which can be inserted at the back of the vehicle. The playset is complete with Marty Mcfly and Doc Brown in their outfits from 1985. Includes a plutonium case, skateboard, remote control and Einstein, the dog. Must have for Netflix or Prime back to the future watch series,
Fred, Daphne and Velma travel around the world in the Playmobil 70286 Scooby-Doo! Mystery Machine.
With the help of the included ghost-hunting cards, which they review on their monitor inside the Mystery Machine, they are able to find ghosts. Discover ghost cards in other Scooby-Doo! playsets, which can also be viewed on the illuminated monitor inside the vehicle.
Big kids, dads and grandparents will love to spend hours together building this classic VW campervan. The Volkswagen VW Bulli T1 is an icon of our times. 
Franzis has the perfect Advent calendar for all fans of the iconic "Hippie van". In 24 steps, a Bulli world of experience with the original engine sound, a comprehensive 52-page booklet and accessories relating to the incredibly popular VW Bus unfolds before your eyes. For snap and screw assembly.
Make the Advent season an automobile festival! In just 24 steps you can build your own first Bulli panorama. A large-format companion book guides you through the history of the VW Bulli as well as the assembly of the calendar content.
Sort bottles, cans and paper or just have a blast! Your eco-conscious little one will learn recycling basics while playing with this super cool recycling truck that has a movable recycling bed and open/shut rear door.
The awesome eco-design by Green Toys has no metal axles. Safe, non-toxic; contains no BPA, PVC, phthalates or external coatings. Guaranteed to produce hours of Good Green Fun!
Introducing the Candyvan Armored Van toy vehicle and collectable by Candylab Toys. The all new 'Candyvan' Collection is an awesome retro collection of miniature toy vans. Completely unique and full of character, these fantastic iconic collectables will add a punch of colour and heaps of fun to the play room! 
See our toy vehices toy collection for more gift ideas.