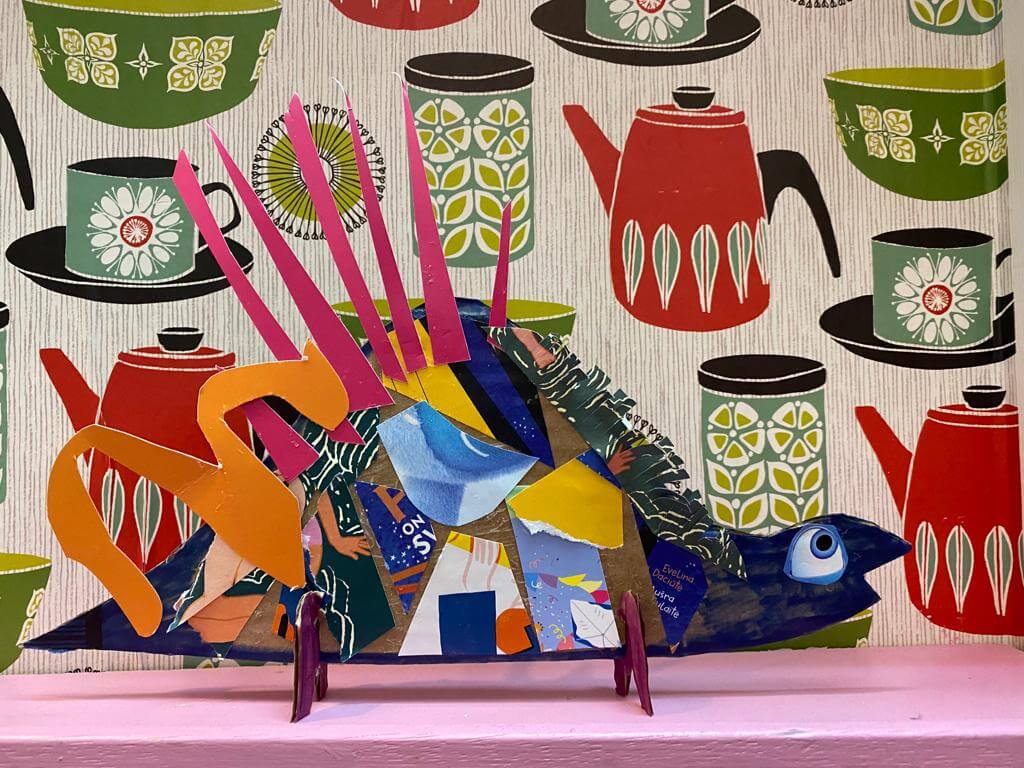 Free half term fun activities for dinosaur crazy kids
Stuck for things to do over half term? What on earth to do with them to keep them amused for a whole week and preferably something that won't cost the earth? We've put together a step by scrappy cardboard dinosaur activity. They're going to love these dinosaur activities and games. They're the perfect way to have fun and learn at the same time, in the classroom or home learning. Discover our range of dinosaur toys with 15% off popular Schleich dinosaur figures for half term only. Roartastic....
We would love to see what you make, if you share your images with the hashtag #wigwamscrappysaurus we will like and share your creation online...
1. Clair's Creative Make a Scrappy Dinosaur Activity (with downloadable templates)
Miss Clair Wigwam Toys owner shows you how to make a scrappy dinosaur! The beauty of this is that it requires no special materials, and relies on what you have to hand. You will need:
An old cardboard box/cereal box

A pair of scissors

A glue

stick

Pens and pencils (optional)

Old

magazines

/greetings cards/food packaging
Step 1 - Download and print out the dinosaur templates.
It's a good idea to use cardboard as your base, as your creation will be able to stand up when its finished. You can use our dinosaur templates a starting point, or draw your own shapes directly on to cardboard. 
Step 2 - To create your scrap confetti to decorate, take your scissors and cut any shapes you fancy, big, small, curved or zig zag, there is no right or wrong way!
We used a face mask, an old greetings card, some scraps of wrapping paper, a magazine and a bit of coloured card.
Have a look around and see what you can find, you could use bottle tops, fabric scraps, food wrappers, balloons – anything from your recycling bin.

Step 3 - When you've got a big pile, cut out your cardboard shapes, cutting along the slots in the legs and on the body of the dinosaur.
Step 4 - I used some felt pens and coloured in parts of my dinosaur before I began to glue. The rest is up to you, choose your shapes, stick them on top of each other until your happy, then assemble your dino, by slotting the legs in to place.
I found some eyes in a picture in the magazine I was using, and cut them out to stick on, but you could use a button, a bottle top or just draw the eyes on.
Step 5 - See if you can make a whole family of dinosaurs, you could make monsters or silly shapes instead. Can you create a fact file for your creature? It could include a name, favourite food, habitat, hobbies, favourite colour, likes and dislikes.
Step 6 - We would love to see what you make, if you share your images with the hashtag #wigwamscrappysaurus we will like and share your creations  
2. Download dinosaur activity sheets & play dinosaur I spy 
Print out this free printable I spy dinosaurs  sheet by Paper Trail Design for a fun quiet time activity while stuck at home. Perfect for a birthday party activity to help a lot of parents and kids stay sane and buy a few moments of quiet over half term. Download the full printable and other I spy games here https://www.papertraildesign.com/i-spy-dinosaurs-activity/.
Go to the Schleich website to download fun colouring activities and dinosaurtastic printables. 
These 20 Dinosaur Activities and Crafts For Kids from we are teachers are totally dino-mite!
3. Budding Dino Experts Come This Way!
Join Schliech Team Dino as they explore the dinosaur world from their interactive research station. Located deep in the Amazon jungle, brothers Maxx, Flynn, and Luis Colby have found dinosaurs that have survived millions of years! On their dangerous mission they can use all the help they can get. Discover the prehistoric giants in your own home now! Help them research a variety of dinosaur species while keeping their secret. EXPERIENCE MORE DINOSAUR FUN
4. Dinosaur Themed Activities for Families at the Natural History Museum
Take part in family-friendly dinosaur-themed activities at home with the iconic natural history museum. Make your own origami dinosaur, find out what dinosaur you are and go on a virtual dinosaur dig. Learn how to make your own charming origami Tyrannosaurus rex and much more. A family favourite both on and offline.
5. Discover our Dinosaur Toys Collection!
Discover our range of dinosaur toys. We have new stock including the Jurassic terrarium, my first book of dinosaur comparisons, Tony T. rex family album, the dinosaurium book and activity book, Mary Anning little people book, dinosaur bingo, Match these bones game and a few more, including sticker books and flash cards.