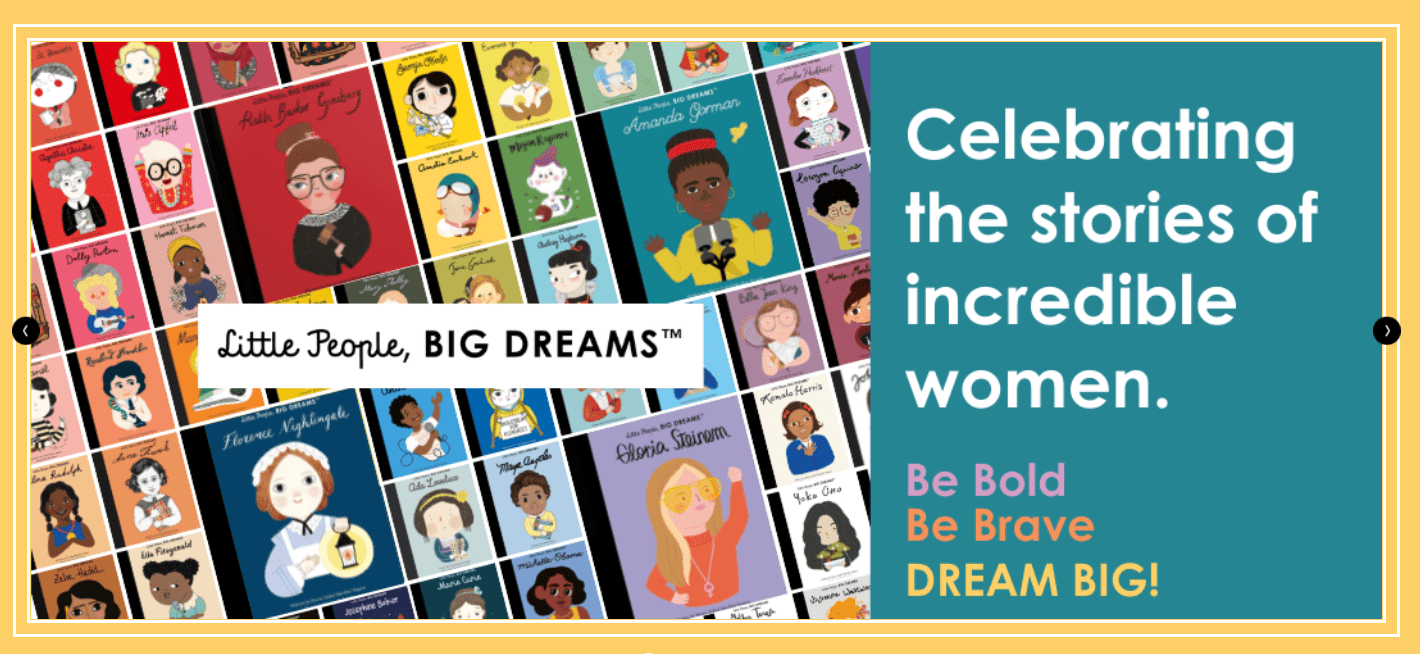 Let's remove gender bias from toys - International Women's Day
On International Women's Day Tuesday 8th March Clair our owner is going to House of Lords for lunch at the invitation of the #ialso 100 f:entrepreneur team, as one of the 100 women last year. It's a Celebratory event coinciding with International Women's Day. The Fentrepreneur campaign highlights inspiring female business leaders across the UK. Through events, content and story-telling, f:Entrepreneur showcases female role models to help and inspire all small businesses.
Why Should We Remove Gender Bias from Toys?
On International Women's Day, we celebrate gender equality by choosing books & toys that celebrate women and educate and encourage parents to remove gender bias in toy choices.
Exclusive new research noted in the Guardian has revealed harmful stereotypes are still hindering girls, boys, and their parents. Seventy-one percent of boys surveyed feared they would be made fun of if they played with what they described as "girls' toys" – a fear shared by their parents. 
The Let Toys Be Toys campaign was launched in 2012 in the UK to put pressure on children's brands to expand their marketing and include both genders, so that no boy or girl thinks they are playing with "the wrong toy".
Let Toys Be Toys is asking the toy and publishing industries to stop limiting children's interests by promoting some toys and books as only suitable for girls, and others only for boys. When toys and books are narrowly divided into 'boys' and 'girls' or by pink and blue, we risk limiting the possibilities and interests of our children. Over time, our gendered worlds have lasting effects on how children grow up to understand themselves and the choices they make – as well as how to behave in society.
Child's Play & the Gendered Brain
The way children play is a hugely important part of development. It's how children first develop skills and interests.Later, gendered ideas continue to influence and perpetuate a society that unknowingly promotes values linked to toxic masculinity, which is bad news for all of us, 
Prof Gina Rippon, a neurobiologist and author of The Gendered Brain has said "We encourage girls to play with 'boys' stuff' but not the other way around." This was a problem since toys offered "training opportunities", she said. "So if girls aren't playing with Lego or other construction toys, they aren't developing the spatial skills that will help them in later life. If dolls are being pushed on girls but not boys, then boys are missing out on nurturing skills."
Little People Big Dreams - Inspiring women
We love Little People Big Dreams - Inspiring women book collection.
Lego
 'Ready for Girls' campaign 
Lego has announced it will work to remove gender stereotypes from its toys after a global survey the company commissioned found attitudes to play and future careers remain unequal and restrictive. The beauty of LEGO® bricks is their versatility. They are a genderless toy, suitable for everyone.
The LEGO Group believes in the value of learning through play and that the development of 21st century skills from LEGO play are equally relevant to all children.
While many parents perceive the LEGO brand as a good example of an inclusive toy brand, LEGO play is still considered more relevant to boys than girls, with 59% of parents saying they encourage their sons to build with LEGO bricks compared to 48% who say they encourage it with their daughters. 
Parenting & Gender Bias
So how can parents encourage gender equality? Here are some tips.

1. Let your children play with whatever toys they like regardless of their sex. All play helps children to develop life skills.

2. Try to be a role model to your child. Show examples of gender equality in the home. Encourage your children to embrace diversity, show them role models. Set the example by equally dividing all housework and childcare in your home. Encourage your children to embrace diversity, show them role models from different genders, ethnicities and colour and remind them that they can be anything they want to be, regardless of their gender

3. Talk to your kids about gender equality and women's rights. By talking to your kids about equality between the sexes and what still needs to be done for us to reach a gender-equal world, you're setting them up to lead the way for a better future for all.
4. Nuture your children and raise boys sensitively for an equal world. Sonshine s a colourful, thoughtful magazine for anyone raising (or helping to raise) boys. Full of informative articles, recipes, play ideas and lots more. Sonshine is written and edited by Hayley Grove and Kirstie Beaven writers, feminists and parents of boys.
5. Listen and learn from today's youth. Today's youth—1.8 billion strong—represent boundless possibilities and enormous talent to build a better future for the world. But to truly harness that power, we need to listen to them. Girls and boys have a role to play in achieving gender equality, today. 
The BBC Experiment: Are you sure you don't gender-stereotype children in the toys you choose for them?
Adults who believe they don't stereotype boys and girls are put to the test by this BBC experiment!
International Women's Day is a global cause that recognizes women's incredible achievements, raises awareness, and encourages others to advocate for gender equality. 
The theme for 2022 is "
Gender equality today for a sustainable tomorrow.
The 
International Day of the Girl
 Child
is celebrated annually on 11th October. The main aims of the day are to promote girl's empowerment.
#genderequality #equality #feminism #womenempowerment #feminist #women #womensrights #womensupportingwomen #girlpower #humanrights #equalrights #gender #empowerment #intersectionalfeminism #femaleempowerment #lgbtq #love #diversity #metoo #sdg #womenempoweringwomen #education #equalityforall #genderequity #empoweringwomen #sexism #pride #strongwomen #lgbt #bhfyp  #womenempoweringwomen #genderroles #patriarchy #womeninbusiness #covid #art #woman #feminista #heforshe #girls #misogyny #genderstereotypes #smashthepatriarchy #womenleaders #inclusion #india #generationequality #sdgs #womeninspiringwomen #womensmarch #selflove #feminismo #nero #womenpower #leadership #feministart #loveislove #blacklivesmatter #socialjustice #equalpay #genderfluid