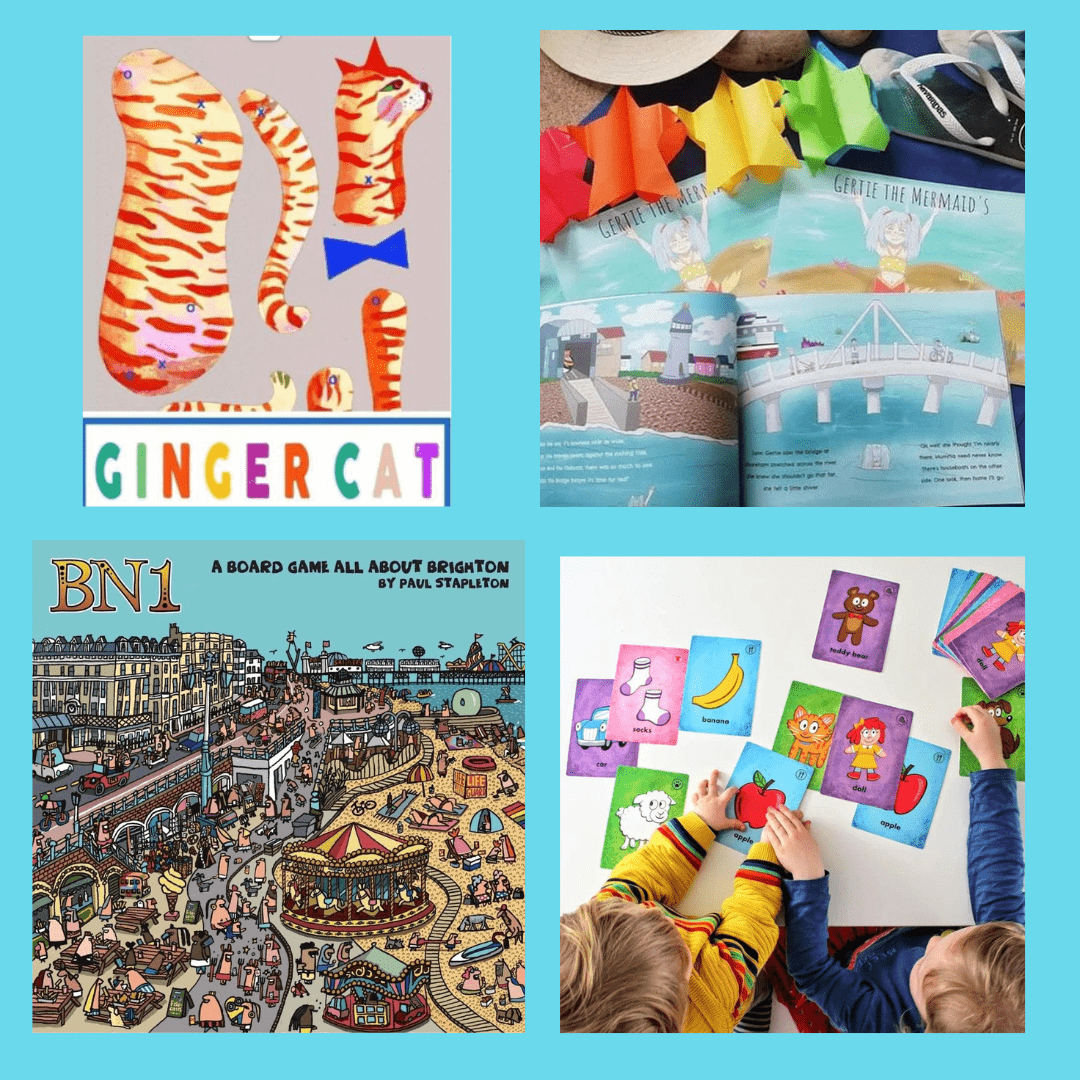 Supporting Indie Game Makers & Authors in Brighton, East Sussex
As an independent business we like to support Independent game makers and local authors whenever possible. Here are some of the current games, books and crafts from Indies we have in stock.
In the city of Brighton, many worlds regularly intersect and in BN1, you can visit any of them: Follow the tourist route or venture off it, snoop on local celebrities or run into native eccentrics, shop, go busking, picnic, travel on foot, bike, or bus. Heck, you could even observe the world from a park bench.

To have the most interesting day out, players compete. The objective is to reach 50 points before returning, starting with £50 and a day saver at Brighton station. Reaching destinations, purchasing eye-catching trinkets, and uncovering local events and secrets all result in points.

The third and final edition of BN1 embodies as much of the original's spirit as possible.This, the third and last edition of BN1, packs as much of the essence of Brighton into a box as is physically possible. It's the one and only opportunity you'll have to visit Pride, The Great Escape, and Burning of the Clocks all in the same afternoon. Familiar landmarks coexist with little-known secrets and characters.
By Bedsit Games
Little Gertie the Mermaid is a typical young lady. She only differs in that she is a marine creature and has a tail.The night before Gertie's birthday is when our tale starts. Mumma Mermaid provides her daughter some great advise on how to stay safe when exploring the coastline and informs Gertie that she will be able to swim a little further out now that she is older.
However, Gertie has other plans and chooses to disregard her mother's advice. She soon finds herself in the biggest adventure of her life as land people pursue her down the river until finally catching her in a fishing net. Fortunately, Gertie survives everything without injury and arrives home in time. Amanda Seven is based in the quaint town of Shoreham, East Sussex.
 Emilia's illustrations are full of humour and include easily recognizable versions of iconic local landmarks including the Adur Ferry Bridge, the wind turbines, Kingston Beach lighthouse and lifeboat station, and Brighton Pier. The pictures perfectly compliment a lively local tale that will delight young children and adults alike.
Knock Knock! Who is it?... It's Knock Knock! First words - a brand new game created for babies (yes babies!), toddlers and up! This game is fantastic. A great gift that is ideal for new parents, baby showers, first birthdays, second birthdays, and second birthdays! Clack Clack! The one-of-a-kind gift you've been seeking is first words!

A lovely card game that can be played seven different ways. encourages language, observation, memory, and other skills! 32 vibrant, laminated, A6-sized cards that are robust, wipeable, and interesting. illustrated by Parker Jacobs, the creator of the kid-friendly television programme Yo Gabba Gabba! Suitable for infants and young children
By Small Fries
#4 Wini-Tapp Cut Out & Make Puppet Kits
Louise Burgess from Hastings was inspired to create the Wini-Tapp Puppet series from a craft workshop she ran for children.Seeing children have so much fun bringing their dolls to life and seeing the imaginative play and stories that followed inspired her to create a line of dolls for a wider audience. The cute designs include ginger cat, bears, zebra, alligator, dashchund and gorilla.

The name of the product comes from her grandmother, an elegant and artistic woman who played the accordion and loved pugs and lots of red lipstick. Her name Wini Tapp - is the brand name.
Are you an Independent maker or author? Want your game or book listed on our site? Get in touch!