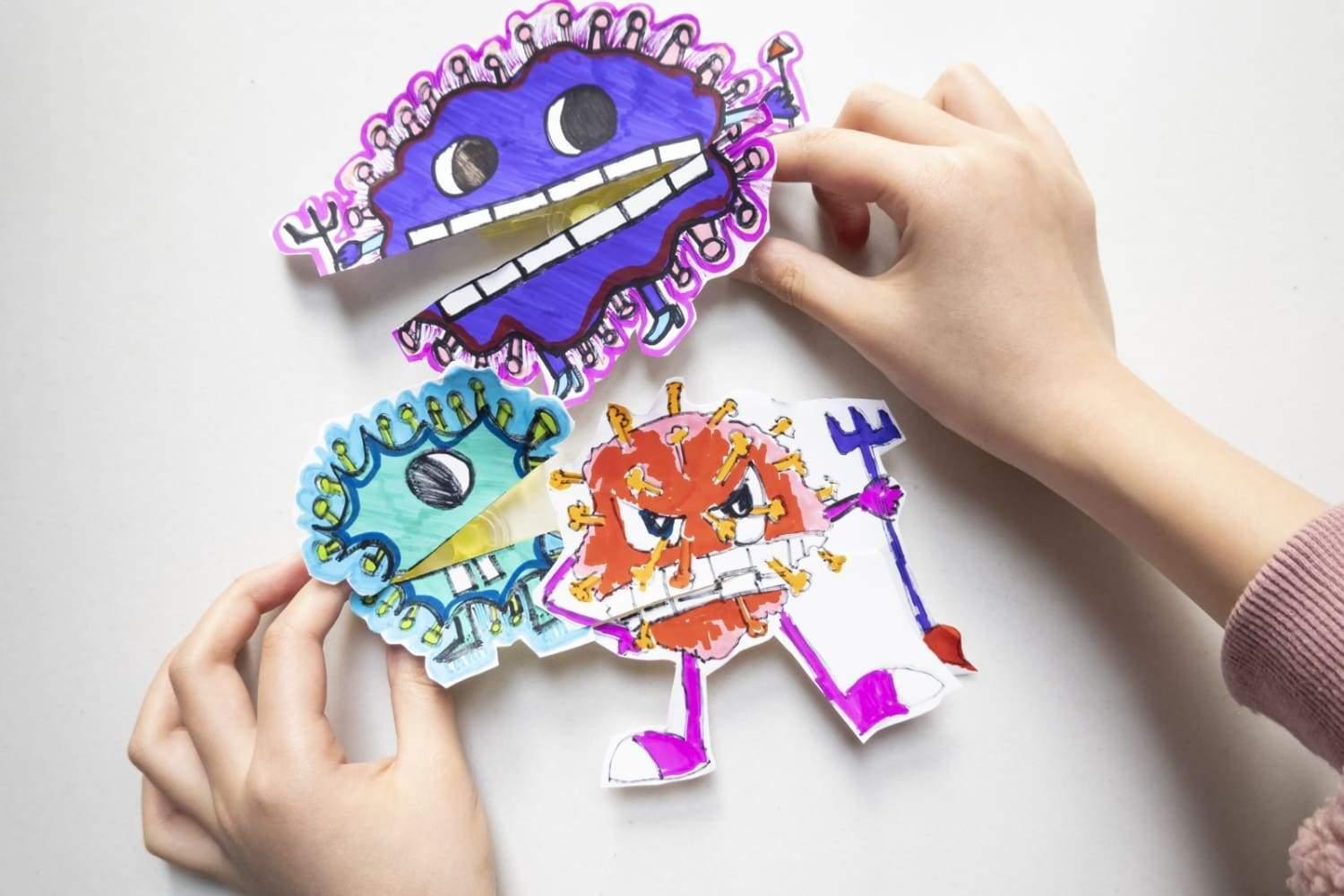 10 FREE creative activities for happy kids during Coronavirus Lockdown
With the UK officially in lockdown, schools closed down and  parents working for from home we are getting used to lots of time at home together. Here are some activities and ideas to make the next few weeks easier for everyone and keep the kids happy & busy.
#1 Free Audiobooks for Children
Audiobooks are a terrific solution to stay at home boredom, so it's good to report that Audible has just made hundreds of titles available for free for children.
Recognising that parents might be struggling to keep their kids amused now that the schools are closed, loads of kids' and tween-friendly audiobooks are streaming for free. Handy if you're struggling with home-schooling or entertaining the kids, as they're available for as long as schools are closed. See Audible Stories. Miss Clair and Albie are massive fans! Usefully, the free titles are divided into sections including Elementary, Teen, Tween, Literary Classics and Folk Tales.
#2 Free Powerful Women Activity & Colouring Sheets - Greta Thunberg, Frida Kahlo, Nina Simone, Florence Nightingale, Malala Yousafzai 
Many book publishers offer free coloring and activity dowloads. Check out our collection of free printables from our favorite publishers and artists below. See also 
Free Printable Ashley Longshore "Powerful Women" Coloring Pages.
Download for free
.
#3 Brighton Bricks LEGO Activities
Brighton Bricks started as an group for adult fans of LEGO in BRIGHTON & HOVE to meet up, and over the years it has transformed as we realised LEGO is so much more than a toy, it is a tool which can foster creative conversation, it is a mindfulness tool, it can bring people together, help businesses with their core values, and so much more.
Nick says...
"Now schools are closing due to the corona virus I decided to create hopefully daily LEGO activities / challenges which I post on social media. Encouraging adults as well as kids to take part in them, and share their builds via Facebook. If you have any ideas or suggestions for activities please email Nick at nick@brightgreenpenguin.com or message via social media #brightonbricksbuild. Visit http://brightonbricks.com/
#4 The Artful Parent Directory
Browse through this directory of 500+ kids arts and crafts activities, including painting, drawing, sculpture, collage, and making suncatchers. Visit https://artfulparent.com.
#5 Lockdown Learning Instagram Resources
Lockdown Learning aims to use minimal resources to reduce the barriers to learning and prevent anyone from going out. Danielle, Jemma & Sophie are mums and teachers who are gramming super simple ideas for home education during this crazy coronavirus time. Find activities such as tricky word hunts, puzzles and games to help children learn away from worksheets and textbooks.

#6 Home Learning Resources
In response to school closures, dozens of companies that produce educational materials have made their resources available as free subscriptions. Find links on the Kids Activities website. Links to free K-12 educational resources such as audiobooks, e-books, videos, multimedia materials and more are also available on the Open Culture website.
Help kids learn with Carol Vorderman's popular maths school and the Sir Linkalot spelling app. See Free home-schooling. Also check out the free 3-month language course for kids from Rosetta Stone. Normally £50 for 3 months. Including French, German and Spanish. Free language courses
#7 The Great Indoors - Scouts Website
The Great Indoors features 100 activities ©Scouts UK
Bear Grylls is encouraging children in isolation because of the coronavirus pandemic to try new activities and develop new skills. The Scouts have made more than 100 free activities,games and craft ideas available on their website - keeping young people busy as they while away time at home.
#8 Exercise like Crazy for Free
Try free workouts for 6 weeks with Chris Hemsworth. Normally £23/month. The Thor actor from the Marvel films is known for his ripped abs. He has free high intensity (HIIT) and other online workout classes right now - see free fitness classes. If the little 'uns are getting restless, they can join the many families doing the free Joe Wicks daily kids' fitness classes.
#9 Play 
Hide and Seek
No list of free fun at home activities would be complete without Hide and Seek. In this classic game, one person ("It") covers his, her, thier eyes and counts aloud while the other players hide. When "It" is finished counting, he or she begins looking for the hiders. The last hider to be found is the next "It." Warning: this game is often a source of giggle fits and wanting to go for a wee.
#10 Have a Virtual Playdate with Grandma
Virtual playdates are an excellent way to let kids of all ages connect while social distancing from others. Caribu, a video-calling app, is offering free services with unlimited access during this difficult time. Create an account to enjoy stories, games and even coloring activities during a video call with friends and family.
#11 Bonus! Make & Do Activities, Games & Puzzles for Bored Kids
We have a huge selection of arts, make and do, activity and science toys. We love all of the Djeco crafty kits like Djeco glitter boards, the frilly cards and felt brush colouring in kits. We also have puzzles, books, artistic patches, kidzlabz, Lego & playmobil and board games. Take a look in our shop.
Useful links
BBC : Coronavirus - How to help kids cope with life without school
Live Science - Activities and online resources for homebound kids: A coronavirus guide
48 ideas to entertain the kids at home during the coronavirus outbreak  
How to work from home with children during the coronavirus outbreak