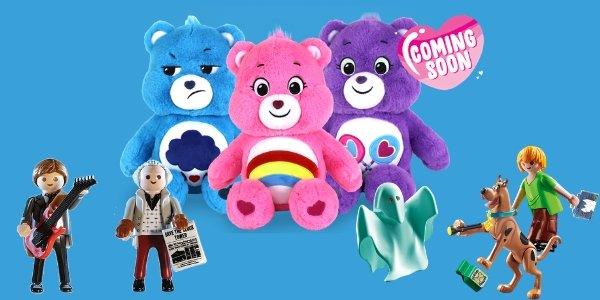 Retro 1980's Toys to relive your childhood!
Our list of all the upcoming nostalgic toys in store now or coming soon at Wigwam Toys!
#1 Scooby Doo Playmobil sets
New Scooby-Doo sets by Playmobil have arrived. Three new Scooby-Doo sets are available, including the Mystery Machine. The set includes figures of Daphne, Velma, and Fred. A Scooby and Shaggy Ghost pack is also be available. What we are most excited for are the Scooby Doo blind bag ghost figures. Twelve to collect, and each comes with a ghost card, which can be placed in a monitor in the back of the Mystery Machine to reveal secrets about the ghosts. 
#2 Back to the Future Toys - Playmobil
Playmobil announced the latest additions to its Back to the Future range in time for Father's Day on Sunday 21st June.
The cult franchise, which stars Michael J. Fox and Christopher Lloyd, celebrates its 35th anniversary in 2020, and Playmobil is celebrating with a raft of new releases. To commemorate the milestone, the DeLorean – Doc Brown's iconic time-travelling vehicle – has been reimagined in Playmobil form.
The DeLorean features folding wheels for hover mode, gull wing doors, an illuminated flux capacitor inside and illuminated exterior. Also included is plutonium inside its own special case, which can be inserted at the back of the vehicle. The play set comes complete with Marty Mcfly and Doc Brown figures, depicted in their outfits from 1985. A skateboard, remote control and Einstein (the dog) are also included.
Collectors can look forward to special figures of Marty & Doc Brown in their 1950s outfits. The sets comes complete with a 50s Rock'n'Roll guitar and newspaper with 'clock tower' headline.
#3 Care Bears - Coming Soon 
The Care Bears were every 80s childs favourite bear! These adorable soft toys were originally created by an American greetings card company. This new line of plush and figures will add more personality to your favourite Care Bears characters, each bear will have a unique facial expression. All the classic favorite bears are back, like Cheer Bear, Grumpy Bear, Lucky Bear, Share Bear, Sunshine Bear, and Tenderheart Bear. The plush soft toy line includes traditional size, large plush, and beanies.
Grumpy Bear
Team mechanic and resident worrywart

Builder of the Cloudseeker

Flipant and smart-alecky

Good-hearted guy, tone deaf to his own words
Good Luck Bear
Determined to succeed by himself, without the aid of luck  
 The mission's navigator
Tackles every task with determination
Share Bear
Talks to animals and loves to bake

Team communicator

Nurturing motherly figure

Loves connecting with everyone
Cheer Bear
Top scorer in video games
Team leader and pilot of the Cloudseeker
A positive go-getter
Always up for a challenge
Wish Bear
The mission's "mom"

Practical and supportive

Believes if you pay it forward, your wishes will come true too

Full of people-wisdom
Bedtime Bear
The night watch

 A night-owl who loves to read

Enthusiastic scholar and the teams "search engine"

Remembers every tale and legend ever read
Visit our retro and classic toys collection for more retro toys...