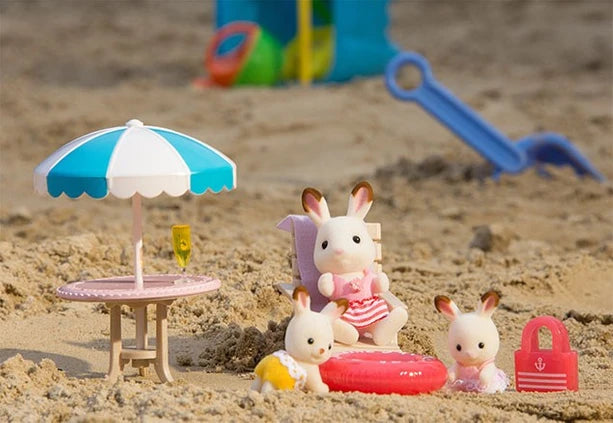 Everyone Loves Sylvanian Families. On Sale!
Everyone loves Sylvanian's especially when there is a Sylvanian Families sale on! Browse our collection of discounted lines. Sylvanian Families are timeless toys, with a friendly appeal to everyone. The word Sylvan means 'of the forest' and the brand has three values at its heart: Nature, Love and Family.
They have many different aspects that enchant a wide range of children including playing-doll, decorating the homes, collecting the furniture, and changing the outfits. There has been an explosion in popularity as the go to nostalgic toy for parents who grew up with their own Sylvanian Families in the 80's and 90's. The super cute toys revolve around families that live in Sylvania and interact with each other in various activities. Sylvanian Families are both a toy and a collectible, and often get passed down through generations.
About Sylvanian Families
Sylvanian Families are ideal for stimulating imaginative role-play in children and have been inspiring children at play for over 30 years now! Sylvanian families toys are a line of collectible figurines and animals created by the Japanese company Epoch. The toys are designed to be cute and realistic, and they have been popular in Japan since they were first introduced in 1985. In recent years, Sylvanian families toys have gained popularity in other countries as well.
What Makes Sylvanian Families So Special?
The Sylvanian Families are a line of toy animals that are popular all over the world. These toys are special because of their lifelike features and their charming design. The animals in the Sylvanian Families line include hedgehogs, huskys, cows, bears, rabbits, mice, and more. Each of these toys is unique and has its own personality. 
Playing with Sylvanians is a relaxing exerience. There are Sylvanian Families sets that cover nearly every aspect of real life. Stressful events such as moving to a new school which can be a difficult time for a young child. Creative role play is an effective way to make your child feel more comfortable and prepared for life events in a safe way. 


Sylvanian Families toys are also special because they are made with high-quality materials. The attention to detail in each of these toys is what makes them so special. Craftmanship and design at its best. Sylvanian Families toys are also very durable, which makes them a great choice for kids who are hard on their toys. If you're looking for a special toy for your child, or for someone special in your life, consider a Sylvanian Families toy. These toys are sure to bring a smile to the face of anyone who receives one.
The Sylvanian Families And Their Community
The Sylvanian Families are a toy line of anthropomorphic animal figurines and dolls created by the Japanese company Epoch in 1985. The toys are designed to promote traditional family values and depict a tight-knit community of woodland creatures who live, work, and play together.

Sylvanian Families toys are popular among collectors and children alike. The animals are often seen as cute and cuddly, and the community-oriented storytelling appeals to many. The toys have been praised for their high quality and durability, as well as their ability to inspire imaginative play. If you're looking for a role play toys the Sylvanian Families are a great option. The toys are well-made, charming, and sure to inspire hours of playtime fun.
Why Sylvanian Families Are Important To Children
Sylvanian Doll Families, to many people, are simply a delightful, family centred toy which children love to play with. To others, Sylvanian Families are more than a toy – they're a hobby, which is a form of relaxation for many collectors.
Relaxation is a natural way to help with stress relief, and reduces the effects of stress on your mind body, as well as other related health benefits. So,  Sylvanian Families are good for you! The idyllic make-believe land of Sylvania, itself, is a calming environment, a place where nothing bad ever happens, where everyone cares about nature and helping out family and friends wherever they can. 
Sylvani
an Families Furniture
Sylvanian Families furniture is a line of furniture specifically designed for the popular line of collectible animals.

The furniture is highly detailed and realistic, and it is made to scale so that it can be used with the collectible animals. The furniture line includes everything from beds and sofas to kitchen sets and vehicles. There is also a wide variety of accessories available, such as food, dishes, and even pets. All of the furniture is made with high-quality materials and is built to last.

If you are looking for furniture that is both stylish and functional, then Sylvanian Families furniture is the perfect choice for you.
Sylvanian Families Shoe Shop
The Sylvanian Families Shoe Shop is a must-visit destination for all fans of the popular toy line. The village shoe store is located in the heart of downtown Tokyo and is packed with all sorts of Sylvanian Families shoes and accessories. Shop. Stocking everything from clogs to sneakers, this shop is just the place to find your Sylvanians some footwear. 
Sylvanian Families Vehicles
There are lots of vehicles to choose from, Our favourites include the 
Sylvanian families

 

picnic car
 a 
pink picnic van with a roof rack, that can fit up to eight Sylvanian Family figures. The boot door and seats turn into a picnic table set. Includes plates and food that can be put in the picnic basket.
O
r discover the 
Sylvanian Families Family Cruising Car
a stylish little retro vehicle perfect for a family of four. The car
 

is equipped with a complete kit for the picnic, as well as a baby car seat. 

The 
Sylvanian Families Bluebell Car Seven Seater
 is a classic Sylvanian car, which comes in smart navy blue. With 2 detachable seats, and 3 child seats included, this is the car for you if you've got a large brood to transport.
Visit all Sylvanian families on sale