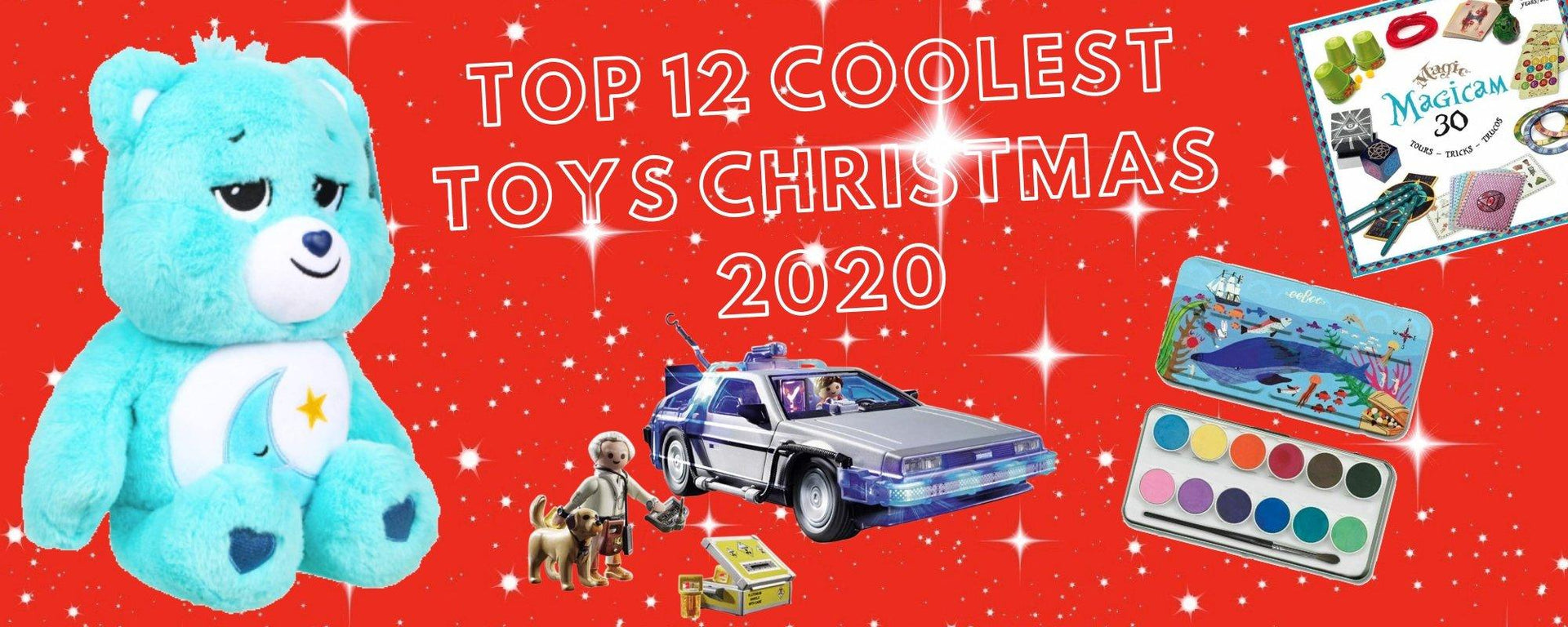 12 Coolest Fun Most Wanted Toys for Christmas 2020
With the festive season on the horizon we thought now would be a good time to share our Top 12 Christmas Gift Ideas for the coolest kids. We go out of our way to bring you new and innovative toys that are different from those found in the big store toy shops.. Our unique toy collections are chosen to ensure they captivate, educate and are good value. We pride ourselves in offering an exceptional personal service including gift wrapping and we're always pleased to help you find the perfect toy or gift. 
Celebrate yuletide in the traditional way toasting marshmallows and taking time offline. eeBoo Jigsaw Puzzles are a woman-owned company featuring thoughtfully designed and socially-aware puzzles for children and adults. Browse our selection on jigsaw puzzles and get your brain cells working.
Getting your child a magic set will allow them to explore the world of illusion first hand. These magic kits also have the added bonus as they help to develop fine motor skills and hand-eye coordination. They are also useful to improve their critical reasoning skills. We love Malicious 20 Magic Tricks by Djeco. The Magic set containing props to perform 20 mind boggling tricks. The instruction booklet includes code words to access a professional magician's explanations on a website for the product.
STEM
 embraces the 4 C's identified as key in education cirriculums: Creativity, Collaboration, Critical Thinking, and Communication. 
Be mesmerised by this 25 piece chain reaction construction set. A great introduction toy to learn STEM concepts such as gravity, force and momentum, and how to create a chain reaction.
This 25 piece set with wooden dominoes, ball and components will inspire creativity and build skills like perseverance, STEM problem solving and critical thinking.
Combine sets from the full range and see how big of a circuit you can create. Instruction booklet included. 
Toys that encourage creativity do much more than prepare young learners to draw, sculpt, or become an artist. They teach children to experiment and problem solve. For budding artists we have a wide range of different watercolour paint for kids of all ages. Watercolor paints are kid classics for a  good reason: They're easy to use and easy to clean up, making for hours of good, creative fun plus they don't dry out!
Special Offer Bundle : Add watercolour paints and watercolour papers bundle to get 10% off at checkout.
Christmas isnt Christmas without watching clasic films like Back to the Future! Playmobil have created  a new range including the iconic DeLorean which features folding wheels for hover mode, doors which open upwards, an illuminated flux capacitor. The Playset is complete with Marty Mcfly and Doc Brown in their outfits from 1985. Includes a plutonium case, skateboard, remote control and Einstein, the dog. Its density is to be a top Christmas toy in 2020.
Sylvanian families celebrate their 35th Anniversary this year. Sylvanian collectors will adore this limited edition playhouse in their stocking! The Gingerbread Playhouse contains a baby figure in Santa costume and a delicious-looking Gingerbread house. The Gingerbread Playhouse comes with a Marshmallow Mouse dressed as Santa, who can ride the cookie sleigh and go down the Gingerbread Playhouse chimney. The Gingerbread Playhouse and sleigh are designed for use with the Sylvanian Family babies, and goes fabulously with our other separately-sold baby figures. It's tons of fun to play with, and makes a fantastic Christmas decoration as well! 
A deluxe version of the Classic Mighty Dump Truck and made from real steel, ensuring 'Tonka tough' endurance this mighty tough digger toy is perfect for children aged 3 and up. Built to take on the toughest construction jobs that no one else can handle, move the truck bed up and down to trigger its unloading action and haul dirt, sand and gravel around the construction site.
These cuddly Pound Puppies need homing but remember a Pound Puppy is for life, not just for Christmas! Pound Puppies need someone to adopt them and love them, and have been waiting for someone like you to choose them as your very own pet. They are easy to take care of - just give them a little love and lots of hugs! These are authentic reproductions of the original Pound Puppies from the 1980s! Super soft plush cuddly Pound Puppies are the perfect Christmas gift and there are 4 to collect!
Candylab Toys is a design company made up of gear heads, architects, engineers, and designers with a passion for all-natural materials, craftsmanship, and vintage-yet-modern looking cars that exude their own personality and take inspiration from yesteryear. 
Got (a) coin? They'll take good care of it. Don't be fooled by its small stature, the armored van is tough and hardy – the perfect guardian for all sorts of goodies. Solid Beech Wood, water-based paint and clear urethane coat.  ABS plastic wheels. Safety tested according to US CPSIA and European, Australian and New Zealand regulations.
Find all the best gifts and toys for the holiday season in The Advent Calendar - Christmas Toy Store. It contains twenty-four surprise items for each day leading up to Christmas. Once all the pieces are revealed, you can make your shopping list, play in the shop, and take a photo with Santa! The set includes Christmas Toy Store backdrop, four figures, Christmas tree, snowman, gift boxes, tricycle, skateboard, and tons of other toys and accessories. Now we're ready for Christmas!
All i want for Christmas is a classic Campervan! The Volkswagen VW Bulli T1 is an icon of our roads. The versatile vehicle convinced entrepreneurs, families and adventurers as well. Make the Advent season an automotive festival! In just 24 steps you can build your own first Bulli panorama. A large-format companion book guides you through the history of the VW Bulli as well as the assembly of the calendar content.
Celebrate Christmas in the Wizarding World with this magical LEGO® Harry Potter™ Advent Calendar (75981). Behind each of the 24 doors is a different toy or figure from the Harry Potter series. As the big day gets closer, kids can recreate Hogwarts™ holiday scenes – including the amazing Yule Ball! The greatest gift for Harry Potter fans! 
 If we have missed any of your must haves or favourites let us know!