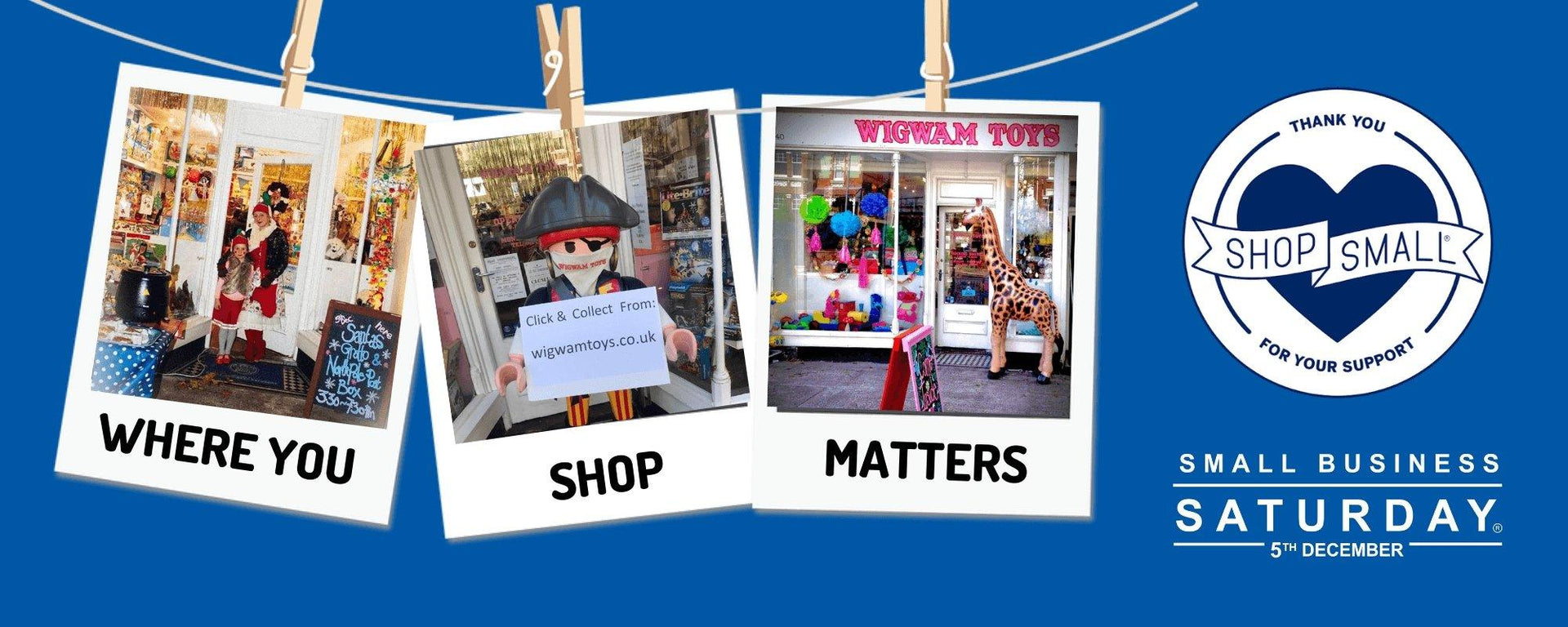 Where you shop matters, shop local independent retailers
By now most people will have heard of Small Business Saturday, but just in case you fancied a reminder, here is what it's all about:
"Small Business Saturday UK is a grassroots, non-commercial campaign, which highlights small business success and encourages consumers to 'shop local' and support small businesses in their communities.
The day itself takes place on the first Saturday in December each year, but the campaign aims to have a lasting impact on small businesses.
On Small Business Saturday, customers across the U.K go out and support all types of small businesses."
We all know about Black Friday, and most of us are aware that seemingly huge discounts and great deals offered on the day, aren't really what they seem. The consumer body Which recently published an article damning the price hikes and artificial discounting practices of large online and Highstreet retailers.
There is huge pressure to join in with the discounting on the day, in fact, probably the only real deals you will get, are offered by small and micro businesses, or individual traders who already offer the best prices they can and can ill afford the loss.
With lockdown severely affecting the economy of the UK and loopholes in lockdown legislation being shamelessly exploited by "essential" retailers, the toy trade in particular is set to be hurt very badly indeed in the run up to Christmas. 
Supermarkets have increased their toy and gift offerings, and retailers who have never stocked toys in the past, are cashing in on the forced closure of so called "Non essential" businesses. 
November is the second busiest month for toy and gift retailers, with December being the first obviously! Many small retail businesses across the country rely on the November and December trade, to see them through the leaner times of January and February. With cash reserves run through, lowering resilience, many businesses may be forced to close for good this winter. 
Why should you care you ask, surely Amazon can bring me what I need? 
Well, according to the FSB (federation of Small Business) at the start of 2020 there were 5.94 million small businesses who employ between 1 & 49 people each. This means SMEs account for 99.9% of the business population! Not only that, SMEs account for 3/5ths of the employment and around half of turnover in the UK private sector.  According to the House of Commons Briefing paper #06152, Businesses in the retail sector alone accounted for 18% of employment and 34% of all turnover in 2019. 
It may not seem that much, but small businesses are where the innovation happens, they bring creativity and vibrancy to an area. Imagine walking through your local shopping centre and seeing only the same few big brand stores, offering the same range of goods at the same price town to town, no choice, no competition, no character, as a consumer it's a pretty bleak thought. 
I love my town and the little independent shops, boutiques and curiosities. They are what make my town different from yours. They are what I seek out, and get excited to explore, when I visit a new town or city. 
I like meeting people who were brave enough to take a risk and birth their business, you can be sure they care about what they do, and can tell you the story behind the product or their store, who go will above and beyond to give you the customer the best advice and experience. 
Small businesses are of their community, they reflect the character of their communities and create relationships that are about more than just a purchase.
It would be a huge loss for our communities and the country as a whole if we were to loose our independent retail sector. By supporting small and local you are supporting innovation, creativity, growth, change and competition, all of which are good for all of us and our communities.