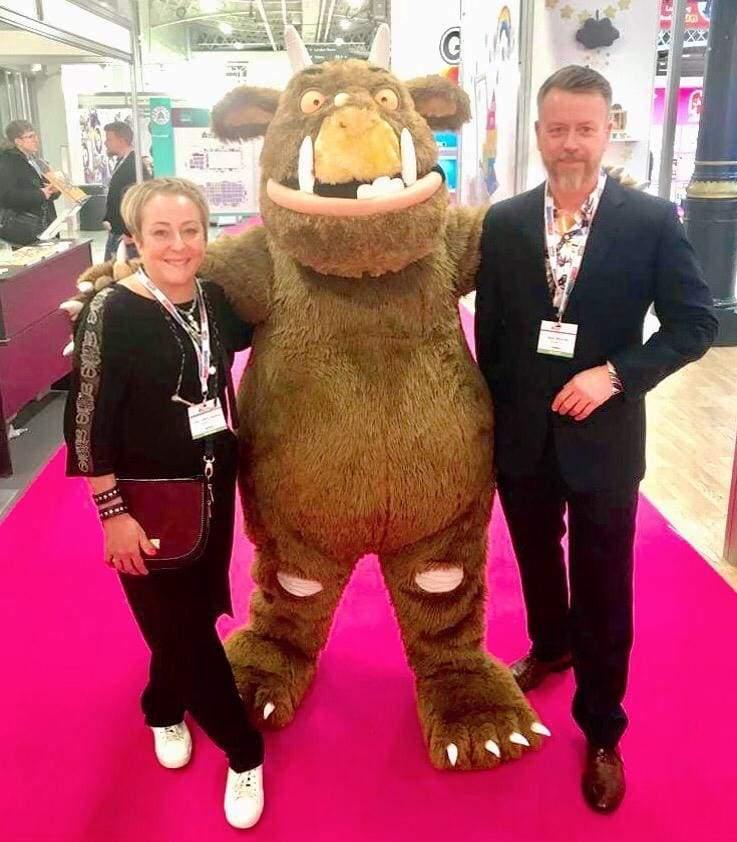 Best Kids Toys 2020 : The Coolest Toys for Kids this Year
In January we visited the UK Toy Fair the only dedicated toy, game and hobby exhibition at Olympia, London. Top retailers, inventors, and exhibitors flooded into Olympia, London to showcase thousands of new products. We were shortlisted and in the final three for Independent toy retailer of the year!
It was a fun opportunity to touch, feel and experiment with the toys of the future or back to the future even! The top kids toy trends in 2020 are all about nostalgia, Science, Technology, Engineering and Mathematics (STEM), role-playing, and erm….your small ones smushing something slimy yet incredibly satisfying! 
Mr. Jesse is standing in front of the Batmobile and I (Miss Clair) scored a Schleich anniversary golden lion! Woohoo!
and last, but no means least here's the adorable Mr. Benjamin our toy store manager - Toy Fair ready!
We love the mini-vehicle Tonka toys, the Playmobil back to the future set, new Schleich dinosaurs, Funko advent calendars, Pixie Crew make & create sets and the cute Iwako erasers from Japan. 
Check out our top picks for the hottest toys for kids this year, coming to our store soon.
#1 Crazy Aaron's Thinking Putty Playdoh
This is the new totally compostable (including packaging) from Crazy Aaron's Thinking Putty. It's a play-doh equivalent and it's oh so gorgeous! Coming in May
2020.
#2 Sylvanian Families Retro Family Campervan
This retro-style cream family campervan with flower detail is the perfect gift for your Sylvanian collection. Too cute! One of Ben's favorites.
#3 Scooby Doo - Mystery Machine & Mystery Solving Crew Set
All together now, Scooby Dooby Doo, where are you? We got some work to do now. How we remember this Scooby Dooby Do van from our childhoods! It's a fairly large playset and is compatible with the 12-inch characters also available to buy separately. They fit in the van perfectly.

#4 Mini Vehicle Tonka Toys
Coming soon, these miniature Tonka trucks are metal die-cast and feature moving parts. Set includes Tonka dump truck which has moving wheels and back of truck tilts. The Tonka Fire Truck has moving wheels. Tonka backhoe has moving wheels and a bucket that moves up and down. Tonka shovel has moving treads and the shovel scoops & raises and lowers. These also have a key chain attached that can be removed.
#5 Playmobil Back to the Future Set
The new Playmobil playsets will include a hero set with the Delorean, 1985 Marty McFly and Doc Brown, as well as Doc's dog Einstein and their accessories. The exclusive set will also include a two-pack featuring the figures of 1955 Doc Brown and Marty. I want one!
#6 New Schleich Dinosaurs
Dinosaurs never go out of fashion and there are 5 of the new Schleich Dinosaurs 2020 collection to be released starting January 2020. Look out for Schleich Dinosaur Postosuchus 15018, Schleich Dinosaur Cryolophosaurus 15020, Schleich Dinosaur Agustina 15021, Schleich Dinosaur Baryonyx 15022 and Schleich Dinosaur Ankylosaurus 15023.
#7 Funko Marvel Advent Calendar
We are loving Funko's Marvel Advent Calendar complete with collectible figures. Spend time with your favorite superheroes with a Marvel-themed advent calendar. From Avengers to Guardians, villains to anti-heroes, this calendar is a heroic celebration Marvel comics superheroes. Bound to be a best seller.
#8 Pixie Crew Make & Create Sets
Pixie Crew encourages playfulness, creativity, and imagination of children and their parents and provide a welcome distraction from the tantalizing world of computers, tablets, and smartphones. They create products for children who are developing their motor skills, creativity and shaping their personality. Perfect for sensory play.
#9 Iwako Erasers from Japan
Iwako has been making erasers in Japan for over 40 years. Each eraser is designed and its mold made, by skilled craftsmen. Every Iwako eraser is hand finished and assembled in Iwako's factory in Japan. Excess material from the molding process is recycled to make more erasers. 
#10 Wave 2 Pound Puppies
Adults who remember playing with Pound Puppies as kids will love seeing these plush pups return for a new generation of kids to adopt and care for. These new versions are very soft, perfect for hugging or snuggling up with at bedtime. There's also a collectible-quality, and kids will have fun collecting their favorite puppies or all of them. These will inspire nurturing pretend pet play. Pound Puppies are for ages 3 and up, and will be fun for kids who like stuffed animals. These will also appeal to parents who remember playing with Pound Puppies when they were kids.
Be sure to check our latest toys in store for all these new toys!