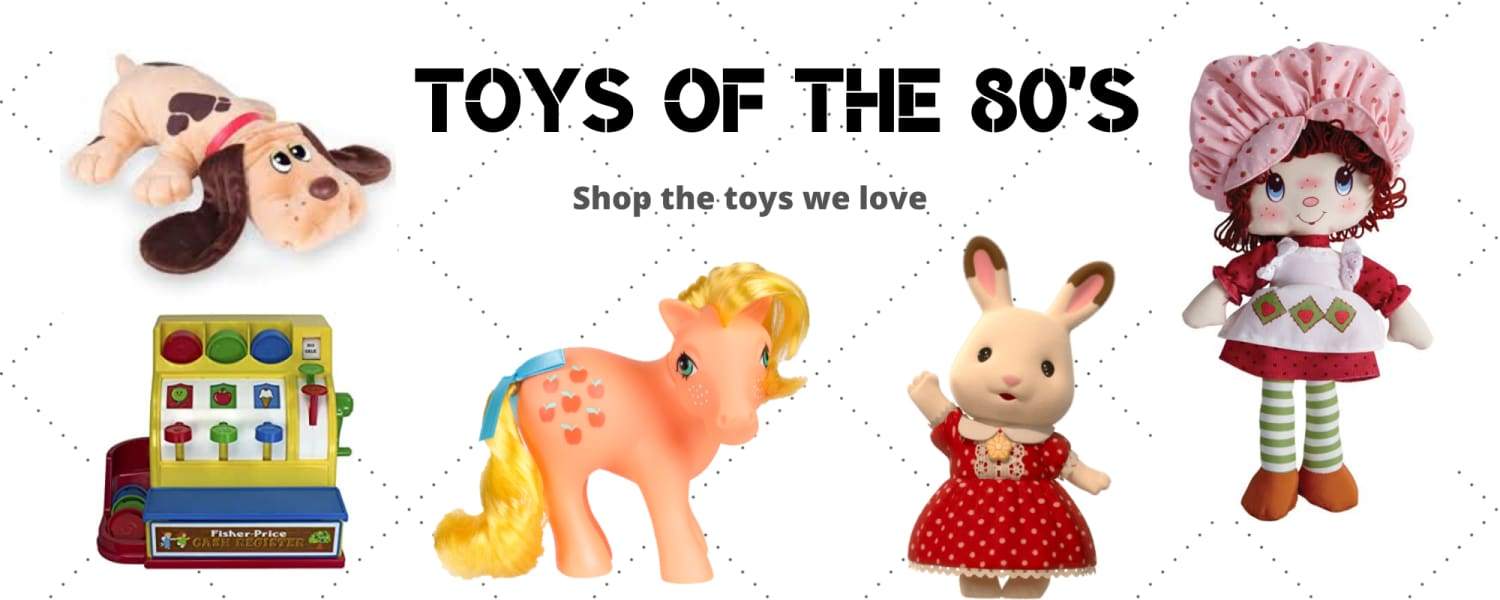 Toys of the 80's
We're suckers for all things retro here at Wigwam Toys. Were big fans of toys of the 80s and 90s so we dropped them into our awesome retro toys collection. Relive your childhood and introduce today's youngsters to all of the best retro toys from the past with the great selection at Wigwam Toys. Are there any toys you remember?
Toys of the 80's
1984 : Pound Puppies
With their floppy ears and adorable eyes, these little pups in their doghouses were irresistible to kids and grownups alike when they hit the market back in the '80s. They remain popular today, with new versions of the adorable puppies from Basic Fun..
1987 : Koosh Ball
The fun ball of 2,000 natural rubber filaments shot to popularity in 1987 - but is also used for more than just squishing, prodding and chucking at walls.
1981 : My Little Pony
The My Little Pony collection of toys are still going strong more than 30 years after they first galloped onto the scene. What once was known as a girl's toy has now been embraced by all kids! Today's My Little Pony dolls are a lot different than their ancestors. But the originals are still beloved,
1981 : Fisher Price Cassette Player
The kids' version of a "boom box," the Fischer Price cassette player would let you listen to your favorite tunes, or record them off the radio (shhh!!) if you could avoid the commercials! Admit it, you recorded yourself plenty of times, too!
1980 : Strawberry Shortcake
The Strawberry Shortcake doll was first introduced by Kenner in 1980 and was hugely popular; An adorable red-haired doll that smelled like strawberries. Little girls couldn't get enough of her and her sweet-smelling friends. Sniff heaven!
1985: Sylvanian Families
Sylvanian Families were created and released in Japan by Epoch, which uses the concept of dollhouses and anthropomorphic animal figures. The first releases of the dollhouses and other playsets were made of porcelain and the furniture was made of wood. 
1980 : Fisher Price Till Cash Register
Kids love playing shopkeeper with the Cash Register from Fisher Price's Classic Toys collection – a celebration of timeless toys revamped for the next generation. This Seventies-style cash register is perfect for shopping make-believe and introducing tots to numbers and currency for the first time. It's got shop-appropriate sound effects, chunky buttons and a lever that opens the till, plus money to exchange for goods. A brilliant, educational toy for children aged 2 and up.
1981 : Fisher Price
 Chatter Telephone
The Chatter Telephone is a pull toy for toddlers 12 to 36 months of age. Introduced in 1962 by the Fisher-Price company as the "Talk Back Phone" for infants and children, the Chatter Telephone is a roll along pull toy. It has a smiling face, and when the toy is pulled, it makes a chattering sound and the eyes move up and down. The toy has a rotary dial that rings a bell, and was conceived as a way to teach children how to dial a phone.
1983: COMING SOON Cabbage Patch Kids
The plush dolls, which we once named "little people", became one of the most popular fads in the 80s. In the Christmas season of 1983, Cabbage Patch Kids were America's most wanted dolls.
1985: COMING SOON Care Bears
Even though the cuddly toys started as humble greeting cards, Care Bears are still widely recognised today. Greeting card company American Greetings hit a home run with these cutesy characters. They inspired TV shows, movies, and of course the toys we loved to collect. Which one was your favorite?