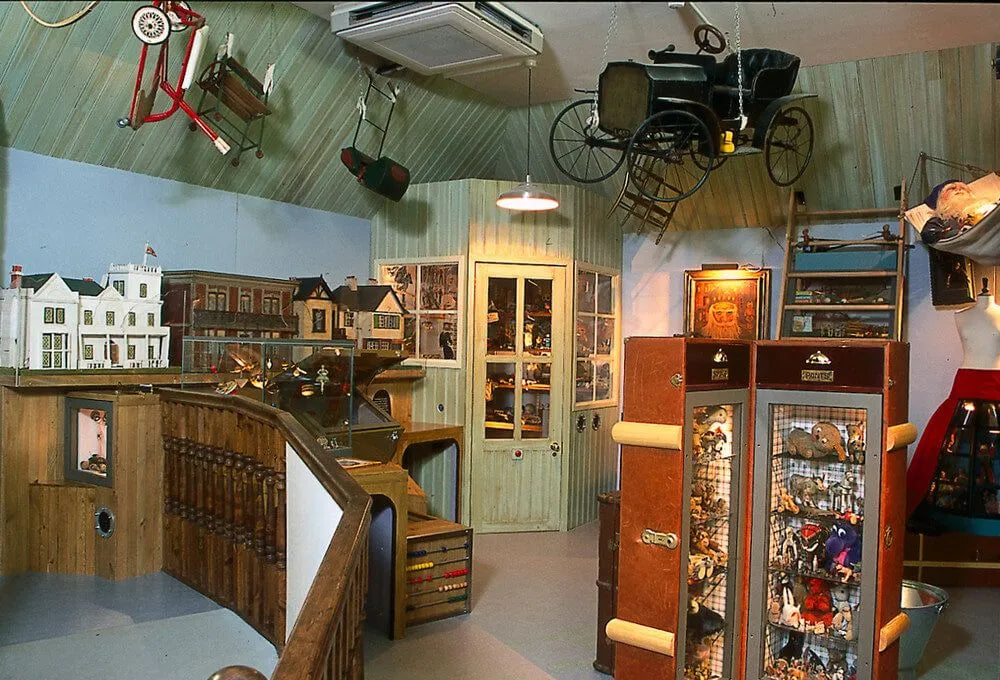 Things to do : Visit the Wizard's Attic at Hove Museum
Hove Museum is a wonderful place to visit for children and families. Step into a world of toys, cinema, local history, and fine art. Hove Museum & Art Gallery is a family friendly museum with one of the finest craft & toy collections in the UK.
The Wizards Attic
The Wizard's Attic is toy heaven for all the family with dolls, teddy bears, mechanical toys and toy trains and the temporary exhibitions are family friendly.A lovely place to reminisce on days gone by. Visit the Wizard's Attic, you'll find a treasure trove of toys through history, the wizard has playthings from as early as the 1740's together with more recent must have cult toys.
Some of his toys are brand new and others much loved, family friends. Some are centuries old, such as dolls from the 1600s, and early clockwork toys from Germany. Others, such as Barbie and Star Wars characters, will be familiar to children today.
Tucked away in the attic is a room which has been magically divided into a half-1890s / half-2000s child's bedroom featuring toys from both eras.  The gallery features model trains, toy soldiers, teddy bears, dolls, mechanical toys and educational toys. Watch the trains go through tunnels.
Doll Collections
A highlight of the gallery is the doll collection with examples from the 1700s onwards, including:
Pierotti portrait dolls of the Royal family from early 1900s
An 18th century wax doll in its original clothing
Bébé Jumeau dolls
German bisque dolls from the late 19th century until the 1920s
Dolls houses of different architectural styles and ages.
There is a good collection of clockwork toys including early British and French automata and clockwork toys from Germany, Britain, America and Japan, with examples by classic manufacturers Lehmann and Schuco.
Kids hooked on Lego will find examples of their favourites, which they can compare with Meccano and a fine selection of 19th century German constructional toys.
Vintage Toys
There are Victorian toys for teaching children their ABC, counting, geography, botany and skills.
Collectors will be entranced by the toy and model trains including a rare German push-along train dating from 1845, early steam trains and Hornby classics, and highly prized Teddies from the early 1900s including some rare Steiff bear.
Hove Museum and Art Gallery is in Brighton and Hove, East Sussex, as part of the Royal Pavilion & Museums, Brighton and Hove, which exhibits local history and crafts across time for free. It's perfect for kids thanks to its fascinating family-friendly exhibitions, so it is a must-do for families. Entry to Hove Museum is free for everyone.
Before you go
Hove Museum opening times are Monday to Saturday, 10am to 5pm, and Sunday, 2pm to 5pm. The museum is closed on Wednesdays, and on the 24th, 25th, and 26th of December.
Lift access is available for wheelchairs to get to the second floor.
Public toilets are located on the ground floor, including an accessible toilet and baby changing facilities.
There is currently no café or catering at the museum.
Please visit the Hove Museum website to plan your visit 
Please be aware of government guidelines before setting off.
Getting there
London to Brighton and Hove in East Sussex is 60 miles and takes around one and a half hours.
Hove Museum-Art Gallery is a 15-20 minute walk from Hove Station.
There are lots of buses you can get from the city centre, Buses 1, 1A, 6, 49 and 49A stop near the entrance to Hove Museum-Art Gallery, taking about 20 minutes.
There are no on-site parking facilities at Hove Museum-Art Gallery except for disabled guests who can park on-site for free, and there is limited parking around the museum.
Image copyright : Brighton & Hove Museums