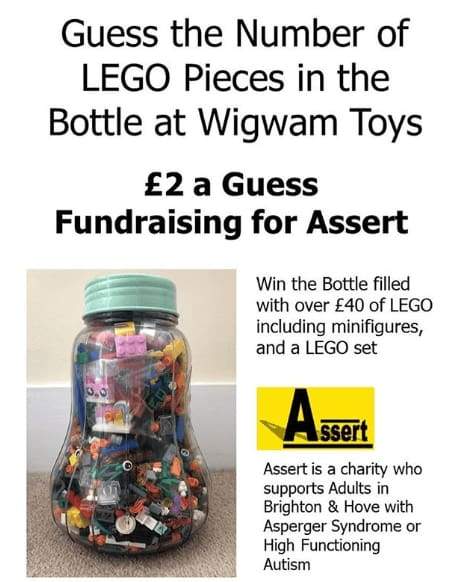 Win a huge bottle of Lego and support Autism Charity Assert
We've partnered up with Nick founder of Brighton Bricks and Becky to fundraise for Assert a charity that supports adults in Brighton and Hove with Asperger Syndrome or High Functioning Autism.
We have a huge bottle of lego including lego mini figures and four lego blind bags to give away. To win guess the number of LEGO pieces at the bottle at Wigwam Store, Fiveways Brighton. It's £2 to enter and all proceeds go to our chosed charity.
Assert is a brighton local charity supporting adults with Asperger syndrome (AS) and High Functioning Autism (HFA). Play is an effective method of teaching people with autism spectrum disorder (ASD), people learn better when you teach them through play. Playing with toys helps develop sensory-motor skills, language skills, social interaction and problem-solving skills. Many people with the condition have above average intelligence and it is known as a spectrum condition was it affect people in different ways to varying degrees. 
Brighton Bricks is an adult fanclub of LEGO in Brighton Hove. As well as offering LEGO workshops and team building activities, it's all about including fans of Lego to get together and share this amazing hobby.
Wigwam Toys stocks a range of bright sensory toys designed for autistic children Take a look at our top picks of toys for autistic kids. They are fun to play with and also aid in the child's overall development.
#1 LEGO
Who can resist the iconic Lego! There is no age limit for play. Be you a toddler, or in your 70s, then you can play with these wondeful bricks.
#2 MOLUK MOX SENSORY BALLS
Stretch your imagination with Moluk Mox sensory balls. Mox is a multi purpose sensory, stacking ball with a big smile! Made from silicone making it soft, durable and easy to clean. 
#3 KOOSH BALLS
The amazing Koosh Ball is made out of rubber so it is very light and extremely portable and very soft to the touch. Koosh Ball is perfect for sensory tactile learning, and enhancing motor skills whilst playing.
#4 TONIEBOX
Toniebox and Tonies offer endless interactive listening and playing fun without bright screens, scratched CDs or complicated controls. Already a smash hit in Europe, and now finally coming to the UK. Be one of the first to try one out.
Look out for our upcoming Lego trail designed for LEGO lovers young and old. We are busy creating a unique Brighton seagull Lego figure custom made by Becky LEGO extraordinaire. The exclusive pack will be available to buy instore and online soon.